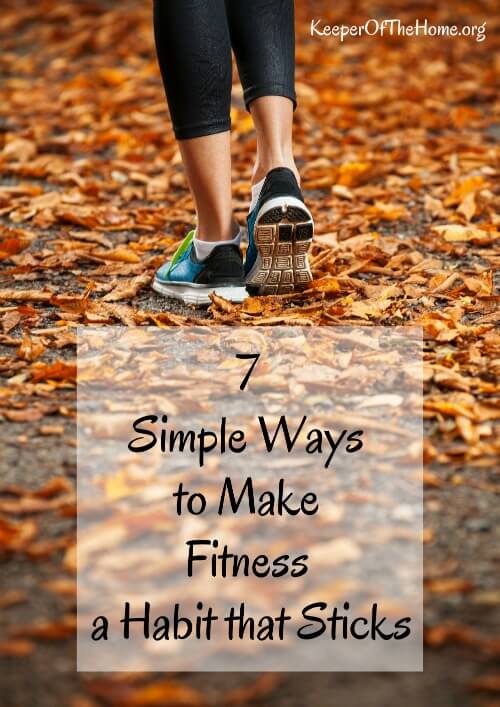 Many of us desire to incorporate fitness into our daily routines, if it isn't already. We want to be movers, we want to support our bodies, and we want to be able to run with our grandkids. But obstacles tend to arise frequently, like time and circumstances. That's why we like quick and functional workouts like this intense 12-minute workout and these movements to reduce the effects of sitting. If you're looking for ideas for forming a fitness routine that you can stick with, this post outlines seven key ways to make fitness a habit!
"I used to hate folding laundry. I had no problems washing it and throwing it in the dryer, or even hanging it outside when the weather was fine. But folding it and putting it away? No thanks.
But one day, I decided that every time the dryer was done, I'd take items out one-by-one, fold them and put them in my basket. It was super simple and they didn't get stuck on my couch or bed for hours (or days) at a time. I kept on, and soon found that it felt weird not to fold my clothes immediately. And then, one day a few months later, something happened.
I realized I'd created a habit that I now actually enjoy.
What does folding the laundry have to do with fitness? Not much. But the fact that I created a new habit has everything to do with physical activity because that's also how I made fitness a must-have in my life.
If you need help making fitness a habit that sticks, read on for 7 helpful tips that'll help you keep it super simple.
1. Think movement, not exercise
This simple shift in my mindset revolutionized fitness for me. Before, it was all about fitting in time to workout — which often was pushed way to the bottom of my list. Now, rather than dreading workouts, I make it a game of seeing how much I can move my body each day.
Now I walk, hike and do yoga. Sometimes I dance around with the kids or we play tag. These are all enjoyable and get me moving.
The key is to get used to moving your body and enjoying it. You don't have to feel physically exhausted to get fit.
2. Track progress
I'm one of those people who loves to track their progress because I find it encouraging. I don't keep spreadsheets or anything, but I do take note of certain things:"