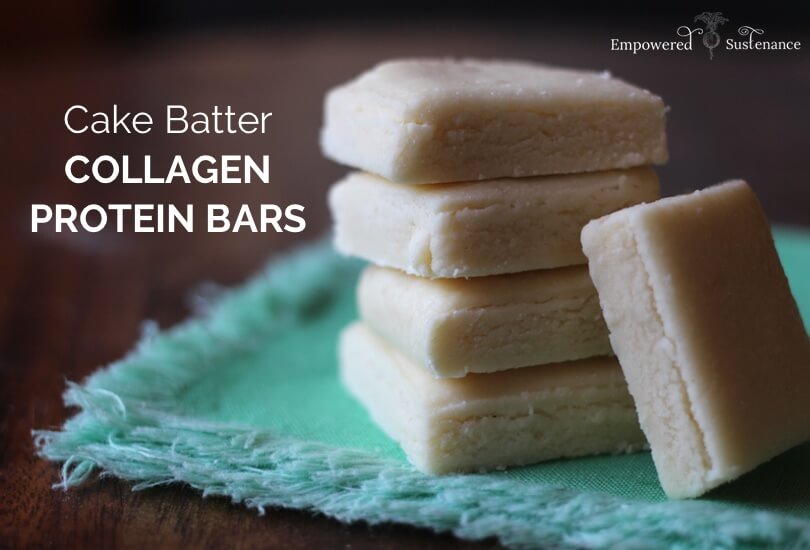 Ten years of dance followed by eight years of volleyball plus my flat feet have added up to some negative results on my knees. My joints have always been sensitive, aching more right before a thunderstorm, and sometimes keeping me up from the pain. It was only once I discovered the benefits of gelatin like that found in bone broth, along with collagen, that my joints began to function properly again. Collagen plays a major role not only in our joint health, but our skin and bone health, too. And since we already know that protein is super important for our health, here's an excellent recipe for yummy cake batter flavored DIY collagen protein bars!
"DIY Collagen Protein Bars
I've given protein powder a bad rap, since it's usually highly processed and denatured. Conventional protein powders contain various stabilizers, additives, and artificial flavors.
When it comes to getting a boost of protein and amino acids, I recommend high-quality, grassfed collagen. I use and recommend Vital Proteins grassfed collagen – it's a highly adaptable way to increase your intake of highly digestible, nutrient-dense protein. (This is not a sponsored post, although I have worked with Vital Proteins before. I love their company and their products).
This recipe is inspired by the Sunbutter Chocolate Proteins Bars by Heather at Cook It Up Paleo. She recently guest posted a fabulous recipe here – Chocolate Cherry Paleo Granola Bars. I hadn't come across a paleo protein bar recipe featuring collagen before, and loved her creativity.
Benefits of collagen protein powder
Why collagen over other protein supplements?
It supports skin health – The appearance of skin aging is partly due to our reduced rate of collagen synthesis after the age of 20. According to research by Vital Proteins, collagen improves skin health by stimulating fibroplast cells – the cells that produce collagen in the human body. Studies show that daily consumption of collagen improves skin strength, elasticity, and moisture.
It supports hormone balance – Traditionally, homemakers and chefs would practice nose-to-tail eating out of frugality, intuitive nutrition wisdom, and culinary expertise. Muscle meats would be served with collagen-rich sauces, aspics or broths. Interestingly, collagen-rich ingredients help to balance the amino acid profile in muscle meats. In this way, consuming collagen supports hormone health by balancing out the high concentration of tryptophan in muscle meats.
It supports joint and bone health – Collagen makes up to 90% of bone mass, and several studies indicate that taking collagen internally can improve bone metabolism.
It supports digestion and satiety – Two scoops of Vital Proteins contains a whopping 18 grams of highly satiating protein. As a matter of fact, studies show that collagen peptides consumed at breakfast are 40% more satiating than other proteins (such as whey or soy).
Where to get collagen protein
When sourcing gelatin and collagen, remember your are sourcing an animal protein. If you would prioritize grassfed beef over CFAO beef, then it makes sense to seek out grassfed collagen protein."