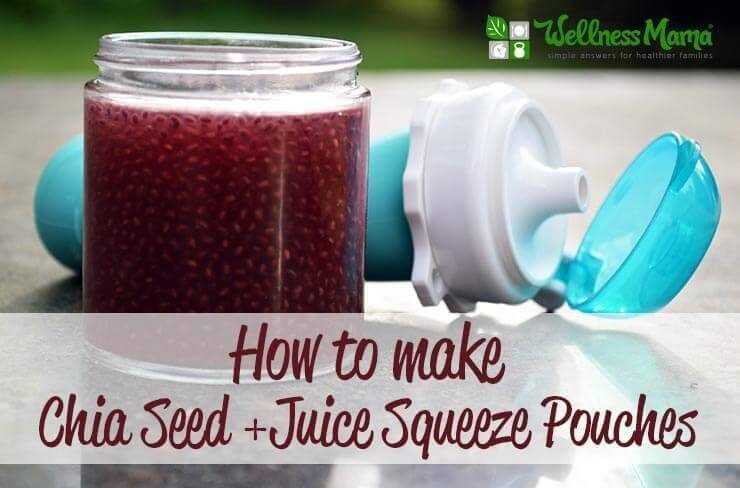 Our family has been enjoying the benefits of chia seeds for a long time now. While my husband prefers to mix them plain in a glass of water and shoot it in one big gulp. I, however, am not that brave! I prefer mine in delicious smoothies in the morning or mixed in with homemade pudding. With the summer rolling around, we are looking for more ways to incorporate these tiny powerhouse seeds to more use. Combined with juice squeeze pouches, chia seeds are super tasty and will be easily-tolerated by kids who may otherwise not be crazy about the flavors or texture.
"I've been a big fan of chia seeds for a really long time…
I use them in healthy energy bars, chia-kombucha energy drink and even as an egg replacement.
Why Chia Seeds?
Chia seeds are an amazing superfood and a great source of calcium, Omega-3s and antioxidants. They also hold many times their weight in water, creating a natural "gel" that provides energy and nutrition.
Legend has it that they were used by the Aztecs, Mayans and Incans as an energy food and for hydration. They were nicknamed "Indian Running Food" for their supposed ability to help warriors and athletes maintain energy and hydration during long and strenuous activity.
Chia Seed Squeeze Pouches:
My children love chia seeds and especially love these Mamma Chia Seed Squeeze pouches, but they are expensive (almost $2 each) and not ideal when I need 1-2 per child per snack.
When I found reusable silicon squeeze pouches, I realized we could make our own for a fraction of the cost of buying pre-made, and avoid all of the waste of the disposable pouches as well. Silicon can be somewhat controversial for food use, but this post details why I feel comfortable using them at room temperature like this.
Bonus: the pouches are no-mess and have been mess-tested by my two year old.
We've had fun experimenting with flavors and different types of juice to make different "Chia Squeezes" and these are now a favorite summer snack at our house. We even figured out how to make these into popsicles (recipe soon).
Supplies You'll Need:
Reusable Silicon Pouches
Chia Seeds
Organic Juice of Choice
Water
A bottle or pitcher for mixing
Flavor Variations:
Cherry and Lime (with Tart Cherry Juice)
Strawberry Lemon
Pomegranate
Green (with green juices)
Orange Mango (equal parts orange and mango juices)
Pineapple Lime
Any other combination you can think of"