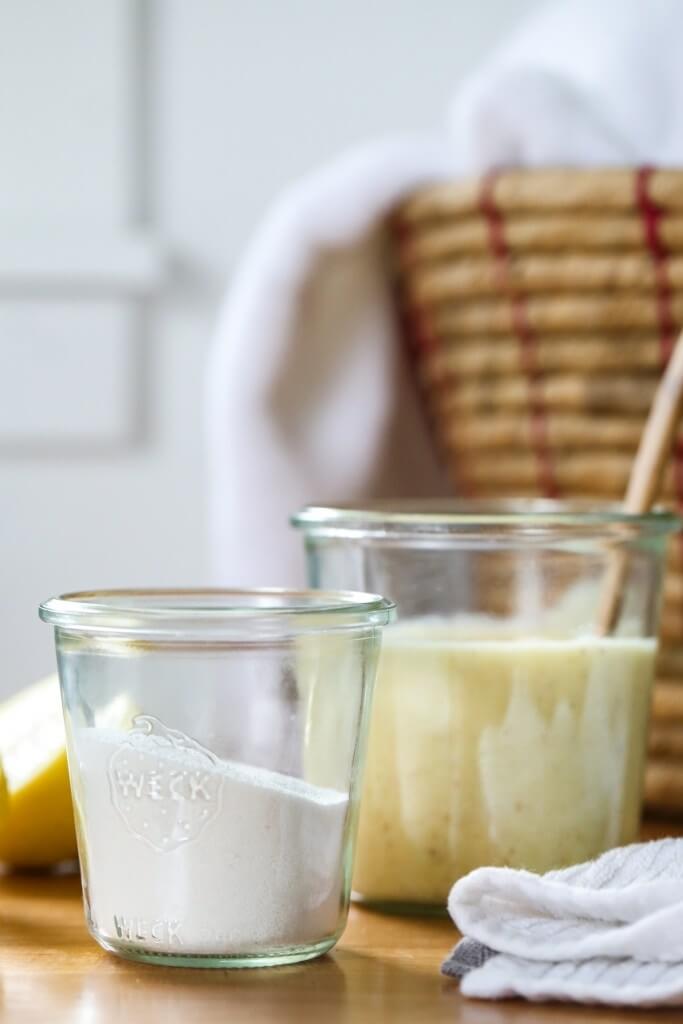 I love the smell, feel, and look of a clean house. Granted, since children entered our lives, our house hasn't been the kind of clean that I would prefer, but that's part of the fun of raising little ones 😉 There's something about the sense of accomplishment when the house is tidy enough, the laundry is moving and being folded, and the kitchen is clean that just does wonders for my mental and emotional health. This good feeling has increased even more since we ditched commercial cleaning products in favor of natural, gentler, more effective homemade cleaning products like all-purpose cleaner, glass cleaner for our windows, and stain remover for our clothes. Another fantastic substitute is this homemade bleach alternative. I used to love using bleach for everything from floors to bathtubs to brighten my whites. Now, the smell makes my eyes water and my stomach turn. Thankfully, a natural homemade version can be made with just three ingredients!
"How does it feel to wear white again?
AMAZING, right?!
Who knew the secret to spotless whites (and colors) could be found in three ingredients most of us already own, or can easily obtain: glycerin, castile soap, water, and lemon. If you're totally lost right now, I highly recommend skipping over to last week's laundry recipe post featuring an effective and simple stain remover spray. Once you've grabbed that recipe you'll want to come back here for today's easy peasy recipe. Trust me, your clothes will be forever changed.
Since we are all in a good laundry mood around here thanks to last week's stain remover spray, we might as well just deepen the laundry love. Let's talk about laundry again, okay?
For the first few years of our marriage (we are coming up on the big 10 next month!), I was a chlorine bleach fanatic. If the bathroom was dirty, I reached for the bottle of bleach. When the ice cream from last night's outing decided to visit with my favorite white shorts, the bottle of bleach was put to use. When our linoleum floors went well past a cleaning appointment (with me!), bleach came to the rescue. I think you get the picture: I loved bleach. And truthfully, I'm not really sure how that love was developed since my parents rarely used this strong whitening and disinfecting agent in their home. Maybe it was the cheap price or the POW job it seemed to perform? Whatever it was, my love was a bit extreme.
I see you cringing over there. Trust me, I cringe at the very thought of my intense use and love for bleach. Oh yea, and then the smell? I don't even want to think about the number of brain cells I probably killed by inhaling so much chlorine bleach. The thought is just depressing, so let's not go there. The good news is the happy turning point of my bleach saga happens right about now…
From the start of our marriage Dustin was the "healthier" one. When I'd be chowing down on Edy's ice cream late at night, he would reach for a container of strawberries. While I continued to feed my sugar and coke addiction, Dustin usually reached for water or juice (sure, the juice probably contained just as much sugar). And when it came to bleach, Dustin always made a point to say, "I wish you wouldn't use that stuff! It hurts my lungs.""