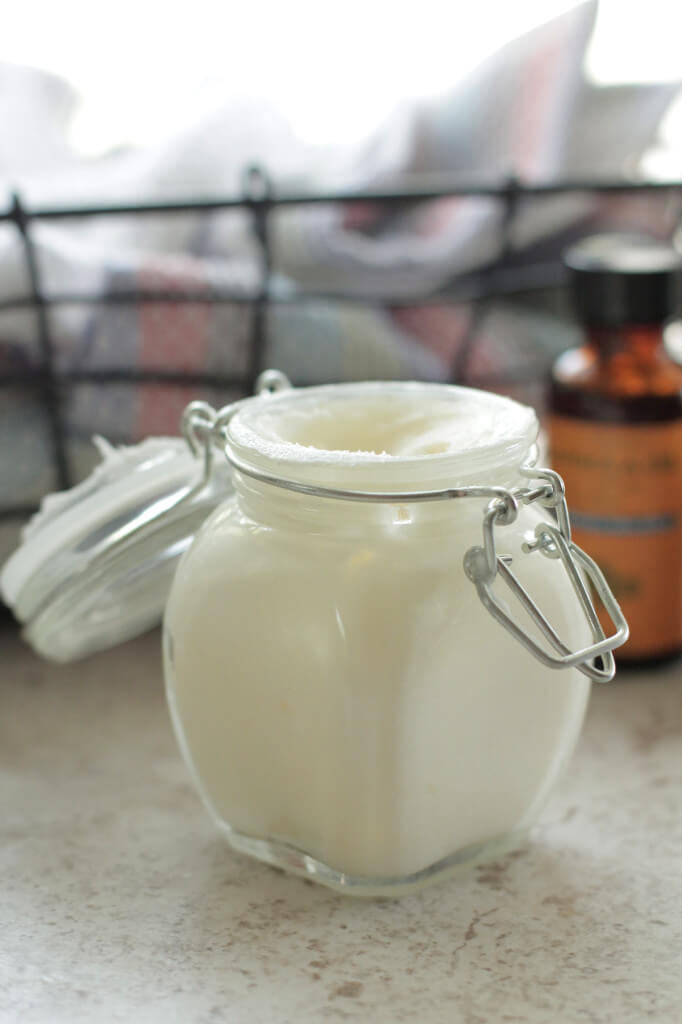 If you are looking to rid your life of harmful toxins, you will eventually come to the dilemma of getting rid of your beauty products. You know you want to ditch the fake, but with what do you replace it? Often times, coconut oil is recommended as a good replacement for body and face lotion, but it doesn't always jive with every skin type. This homemade moisturizing lotion is all-natural and is made with shea butter and essential oils.
"April has brought valuable lessons. Let's review a few:
1. Don't keep your glass 2-gallon jar of Kombucha hidden in a dark pantry. Your husband unknowingly will break it, sending sticky Kombucha rushing across your floor like a mighty river. Due to the shattered glass you'll have to throw away the beloved SCOBY. Wearing black for several days is totally acceptable.
2. Chicks are even worse than having full-grown backyard chickens. Remember the time I shared "5 Reasons to Not Keep Chickens"? Well, chicks are a whole new game. If your children won't leave your home with chickens, chicks mean they will want to set up a fort, camp out, and study their every move, 24/7. I'm determined we will leave the house one day.
3. Coconut oil is not the cure-all. Gasp, I know. That statement is practically heresy in the natural living community. Toothpaste? Coconut oil. Smoothies? Yep, coconut oil. A boo-boo? More coconut oil. We use it for everything! But, I've learned the magical white oil isn't always suitable for every need.
Since you're probably a tad bit shocked by the coconut lesson, let's talk. I feel the need to explain such an outrageous statement before being eternally cast-off from all things crunchy.
A couple year ago, I decided it was time. Time to ditch the toxins found in our bathroom. From lotions to body wash to make-up, the amounts of chemical toxins I put on my body was astounding. With the urge for simplicity and natural living I started developing my own replacements for things like foundation powder and lotion."