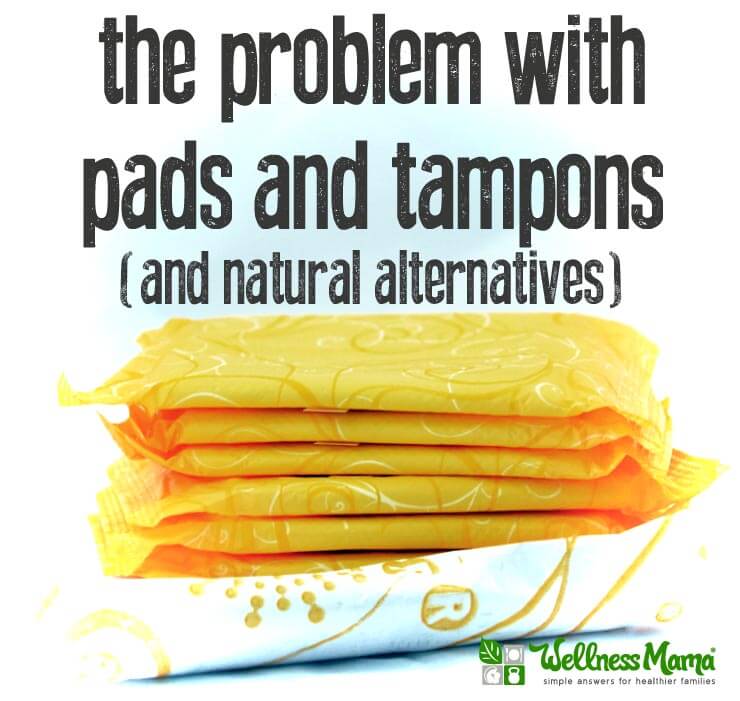 It's only logical that, after chemicals invade our food and cleaning products, that they invade even the most personal care products. For women, commercial pads and tampons can be some major offenders when it comes to toxicity. The sad thing is that pads and tampons are super convenient; unfortunately, the risks and downside to using them outweigh their ease. The good news is that there are some fantastic natural alternatives to pads and tampons that can still make life easy.
Do you use an alternative? Would you ever consider switching?
"It is always frustrating when something that is really convenient and time saving ends up being really unhealthy… like plastic water bottles or antibacterial hand sanitizer.
One glaring example of this I've been researching lately is conventional tampons and pads. I know, I know… everything is toxic these days and it sometimes seems like we have to be afraid of everything, but there are some really compelling reasons to avoid conventional feminine hygiene products and luckily there are some great time saving and money saving alternatives.
The problem with pads…
Modern sanitary napkins or "pads" and tampons have definitely made feminine hygiene easier and more convenient, but everything comes with a price.
Environmental concerns
From an environmental perspective, a tremendous amount of these products end up in landfills and water treatment facilities. An average woman will use over 16,000 tampons or pads (up to 300 pounds!) in the course of her lifetime, sometimes more.
Most of these products contain plastics, which are problematic in their own right and take a long time to break down. They also contain special chemicals and ingredients that make them able to absorb 10x their weight in liquid, but the effect of these chemicals have not been comprehensively studied for their affect on the environment.
Plastic problems
I've written before about the dangers of plastic exposure, and we often don't think about how things like pads can be a major source of plastic exposure.
The labia and vaginal area is highly vascular, meaning that a lot of small blood vessels run to this area. The skin is also especially thin down there, making it easier for plastic chemicals to enter the body that way. Many pads and some tampons contain plastic chemicals and can even contain BPA and other plastic chemicals."