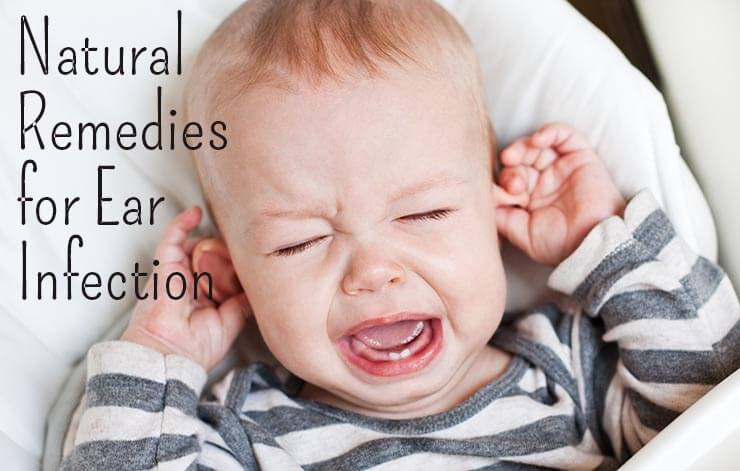 For a parent, there is not much more that is harder on the heart than watching their child suffer. Even the tiniest cuts and scrapes and growing pains can hurt us more than they actually hurt our children. One of the toughest common childhood illness is an ear infection. Younger babies and infants are especially prone to infants, and watching them in pain is so difficult to bear! Unfortunately, many doctors will immediately prescribe an antibiotic for an ear infection before encouraging parents to first try natural alternatives. In reality, many ear infections can be kicked using gentle and natural means. Keep this list of natural remedies for ear infections on hand – but we hope yo udon't need it 😉
"As a mom, few things in life are more difficult than seeing your child suffer, and ear infections can be a very painful part of childhood for some kids.
As a child, I had recurring ear infections and several rounds of tubes. Even though I haven't had one since I was about 5, I still vividly remember the pain of my ear infections (even more so than the pain of Strep throat and other illnesses I had).
Thankfully, my own children have largely avoided most childhood illnesses, (maybe because of our diet?) but we have had two cases of ear infections (with five kids 8 and under, I'm not complaining at all!). Even so, it is difficult to watch a little one suffer, and I completely understand the impulse to run to the doctor to get immediate relief. Unfortunately, it isn't always that easy.
What Causes Ear Infections?
When my first son got an ear infection when he was a few months old, I took him to our family doctor for relief. Ear infections are the second most common childhood illness and they can be serious if they don't resolve, so I wanted to be proactive. Both of my parents have hearing loss, so I wanted to be especially careful to protect his eardrums.
To my surprise, our doctor suggested warm compresses, extra nursing, a few drops of breastmilk in the ear and extra sleep for a few days before trying anything stronger. He explained that not every ear infection needs antibiotics. In fact, he said most resolve on their own with proper support and the overuse of antibiotics can actually cause bigger problems for the child (and for society) later on as bacteria become increasingly resistant to them.
In hindsight, I am so grateful for a doctor who took this approach and spent the time educating me. We moved to a new town since then, so when our other child was struck with an ear infection last year, I didn't have that doctor's sage advice. This time, the child wasn't nursing so breastmilk wasn't an option. The local doc couldn't even get us in for a few days. I considered urgent care but decided to research and try some natural remedies for a day unless things got worse."