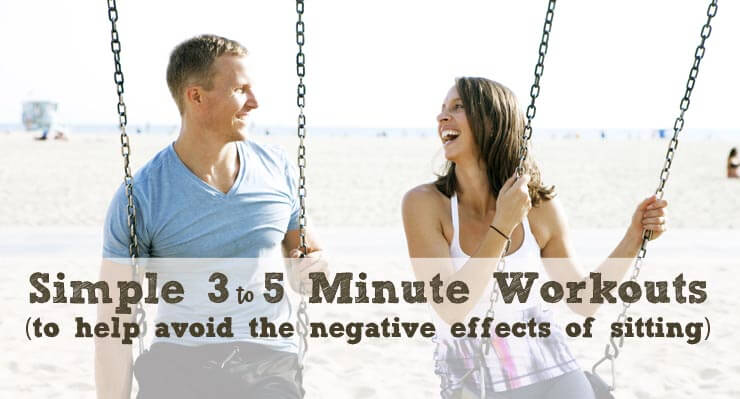 As busy parents, we love a good quality quick workout like a kettlebell routine, planks with a stability ball, and even a simple walk. These uncomplicated exercises get us moving without a lot of fuss.
It's amazing how something so commonplace like sitting can actually be detrimental to our health. As a society at large, we are sitting much more than we are standing and moving throughout the day. This certainly is not how our ancestors lived, as their bodies were moving for the majority of the day and they rarely sat. Their bodies rested when they slept, and during the day they were on the go. Today, we're on the go, but most at desks and behind computer screens. Our loss of consistent and frequent movement during the day is having a profound effect on our health. As Katie explains:
"We burn 50 less calories per hour when sitting (compared to standing)
Sitting can cause the muscles to atrophy or tighten in certain places and lead to things like back pain
Research is also showing that sitting for long periods causes the muscles to release less of the enzyme Lipase which controls proper breakdown of fats
Sitting for long periods can reduce insulin sensitivity and increase risk of insulin resistance
Sitting too much for an extended time can reduce bone density"
Sitting too much can literally be the death of us. Fortunately, there are ways to reduce the effects of sitting. These videos relay step-by-step instruction for quick and simple workouts that can mitigate the negative side effects of not moving enough. Check them out and get going!
"It's an awesome time of year here in Austin, TX. The heat from the dry summer is finally leaving and the cool breeze is coming in. It's also the weekend of the ACL music festival and Outkast is in town…hence the inspired quote:)
We were recently on The Wellness Mama podcast to talk about our upcoming book The Sitting Solution and it was such a great time! Afterwards, Katie asked us if we'd like to do a post for Fitness Friday! This got us a little motivated and we thought we'd do something for mamas today! After all…if mama ain't happy then ain't no body happy and we want play our part.
First though we'd like to introduce ourselves and let you know what we have for you today!
And here are the workouts we mentioned with video demos so you can get started right away!. Have fun!
3-5 min AMRAP (As many reps or rounds as possible)
5 Side bridges Left
5 Side bridges Right
5 Pushups
10 Lunges
3-5 min AMRAP (As many reps or rounds as possible)
5 Burpees
10 Mountain climbers
3-5 min AMRAP (As many reps or rounds as possible)
10 Squats
5 Low to high planks
3-5 min AMRAP (As many reps or rounds as possible)"