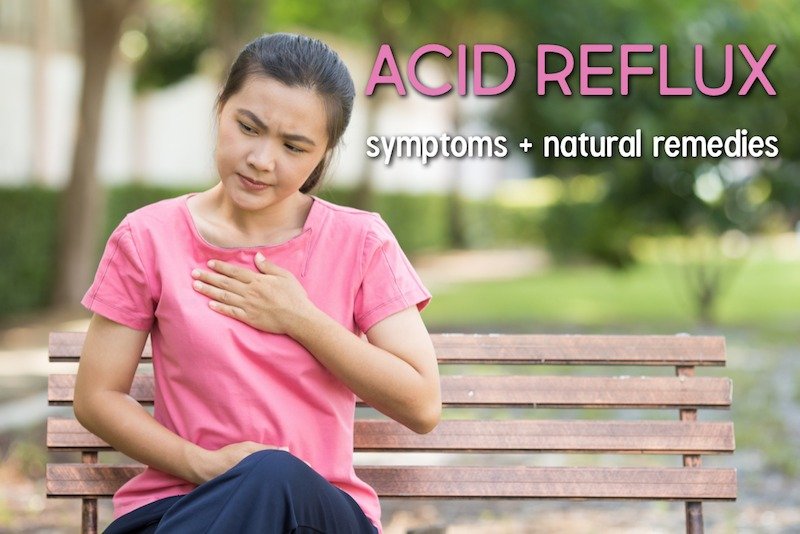 How many of us know someone who suffers from acid reflux? How many of us are plagued with this discomfort? I remember my first bout with acid reflux symptoms. It was a particularly stressful time during my high school career. After it bugged me enough, I decided that I was going to take action, because I refused to rely on a little purple pill for the rest of my life. Just as with heartburn or sinus infections, acid reflux can be treated gently and naturally.
What Causes Acid Reflux?
We're going to flip something on its head here. Most people think acid reflux is caused from an excess of acid in the stomach. But in reality, acid reflux is actually caused by low stomach acid. As Katie says:
Stomach acid signals something called the Lower Esophageal Sphincter (which separates the stomach and esophagus) to close tightly when the body has enough acid to digest the food that was consumed. When there is not adequate stomach acid to digest a food, the Lower Esophageal Sphincter will not receive this signal and will not close tightly, letting acid and undigested food creep up into the esophagus leading to heartburn and indigestion.
Since everyone's bodies are different and react differently to various foods, stresses, environments, and more, acid reflux can be caused by numerous factors. Here are some of the most common:
Inflammation
Pregnancy
Underdeveloped digestive system (in babies)
Obesity
Hiatal hernia
Aging
Too-large meals
Smoking
Acid Reflux Symptoms
While the physical discomfort resulting from low stomach acid is what likely draws people's attention to their acid reflux, there are other acid reflux symptoms to look out for:
Bad breath
Dry mouth
Unintended weight loss
Waking in the middle of the night coughing or feeling like you're choking
Nausea
Bloating (especially after large meals)
Unrelenting hiccups
Gassiness after meals
Throat soreness and dryness
Hoarseness
Regurgitation
Natural Remedies for Acid Reflux Symptoms
If you're experiencing any of these acid reflux symptoms, there are effective natural remedies you can try.
1. Chew Your Food
This sounds stupidly simple, because it is. But it's worth noting. So many of us don't take the time to properly chew our food. We are usually in a rush, scarfing down breakfast on the way to work or dinner before we drive the kids to their baseball games. Our culture is one that celebrates the rush and we've lost the art of eating slow in the process. But digestion starts in the mouth. As we chew our food, compounds in our saliva begin breaking down our food. For proper digestion and less acid reflux, simply slowing down at mealtimes can make a big difference.
2. Diet to Treat Acid Reflux
Additionally, there are certain foods that combat acid reflux and are gentle on the stomach. Foods that improve acid reflux are:
Intermittent Fasting
Speaking of food, by fasting for small periods of time, you give the body time to restore proper stomach acid. This can look as easy as not eating after dinnertime until a late breakfast the next morning.
3. Supplements for Acid Reflux
There are several supplements that relieve acid reflux symptoms:
Probiotics
Betaine HCL
Ginger herbal tea
4. Apple Cider Vinegar
It may seem counterintuitive, as apple cider vinegar tends to burn on the way down, but this is one of the most useful and cost-effective remedies for acid reflux. Apple cider vinegar balances the pH in the stomach, recalibrating the acids in the stomach and controlling candida in the gut (another cause of low stomach acid). Take 2 Tbsp in one glass of water 2-3 times daily to treat acid reflux until symptoms subside.
Other Tips for Managing Acid Reflux Symptoms
In addition to the remedies mentioned above, there are some other small yet significant ways to help control acid reflux:
Give up smoking and don't drink too much alcohol
Exercise
Manage stress
Eat smaller meals
Don't consume food for the last three hours before bedtime
Know someone who suffers from acid reflux? Share this post with them!