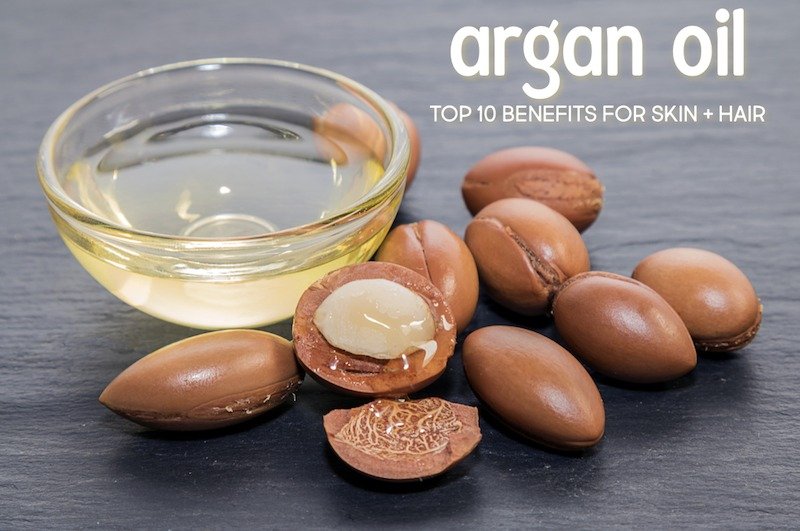 If you're in the natural living camp, chances are you put some funky things on your face and skin. We bet that many of the ingredients in your kitchen can also be found in your bathroom, and that you get giddy when making your own lotion, toothpaste, and deodorant. Well, we have another healthy skin and hair item to add to your green arsenal. Argan oil is loaded with antioxidants, Omega-6s, and linoleum acid, enabling it to ease inflammation while moisturizing the skin. Therefore, argan oil benefits both the skin and the hair.
What is Argan Oil?
Argan oil is extracted from the seed of the argan fruit, a highly prized fruit found in the Argan Forest in Morocco. Because the oil is so beneficial, and because it takes many fruits to yield a usable amount of oil, Argan trees are considered precious and protected.
History of Argan Oil
Argan oil has been used throughout the centuries as a remedy for bug bites, wound and rash healing, and other skin infections.
In modern times, it is frequently used in cosmetics due to its ability to boost cell health. But these products can be expensive and often contain other ingredients you're likely not crazy about. The good news is that you can purchase just argan oil to use in your own natural skin and hair care routines. A little bit goes a long way, so it will last you a while.
Top 10 Argan Oil Benefits for Skin and Hair
Here's a list of argan oil benefits for your skin and hair. Put this on your "to get" list!
1. Moisturizes the Whole Body
My favorite body moisturizer is argan oil mixed with coconut oil. These two nourishing oils work in tandem to prevent dry skin or to heal dry, flakey skin, particularly on the elbows, knees, and heels.
2. Helps Prevent and Reduce Stretch Marks
For you mamas out there, argan oil can support the health of your skin by improving its elasticity. Argan oil is also high in Vitamins A and E, which work to strengthen and restore skin. During pregnancy, routinely apply argan oil to your belly and breasts (avoid the nipples). For post-pregnancy care, using argan oil regularly can actually reduce the appearance of stretch marks.
3. Nourishes Lips
Not only will organ oil moisturize your skin and hair, it's great for lips as well! Rub a couple of drops onto your lips as a natural lip balm. Be sure to wipe away any excess. I also like to put it on my lips before bed as a sort of overnight moisturizing treatment for my lips.
4. Serves as an Effective Skin Toner
Are you making your own facial toner yet? If so, simply add a few drops of argan oil to your toner to add bonus benefits to give your skin a glow and helps prevent/fight acne. Which brings us to…
5. Remedies Acne
Argan oil's high linoleic acid helps reduce the inflammation that causes and aggravates acne. To reap the biggest benefits, use argan oil as a daily moisturizer. If a blemish appears, apply the argan oil in a more concentrated amount to the affected area.
6. Deep Conditions Hair
Use argan oil as an overnight deep conditioning treatment for your hair. Simply wash hair as usual, then, pour a nickel-size amount in your palmed rub hands together to warm the oil. Run your fingers through your hair, from root to ends; then, pin your hair up and cover your head with a shower cap. Leave overnight and rinse in the morning.
7. Soothes Razor Burn
One of my favorite argan oil benefits is its ability to calm razor burn and bumps. After shaving, simply apply a few drops of argan oil to the area to soothe any bumps or burns that may occur. This works well for both men and women!
8. Conditions Cuticles and Nails
For softer cuticles and stronger nails, apply one drop of argan oil on each nail and massage into the nail and cuticle. Leave for a few minutes then rinse with warm water. To complete your at-home manicure, simply apply a non-toxic nail polish, and your nails will be superb!
9. Exfoliates Skin
When combined with sugar (you can use white or brown – remember, sugar is great your for skin, bad for your gut), argan oil makes a fantastic exfoliant. Simply combine a few drops of argan oil with 1 Tbsp of sugar of your choice and gently apply in circles on your face. You can also use this on areas that are more prone to dry or damaged skin like your elbows, knees, and heels. Simply rinse with warm water and pat dry. Your skin will feel instantly fresh and clean!
10. Protects Hair and Smoothes Fly-Aways
Argan oil serves as an ideal leave in conditioner. Apply it after your shower to protect your hair from the heat of blow dryers and styling tools. Additionally, you can apply argan oil to your hair after you've styled it in order to tame frizz and fly-aways and to set your hair.
Have you ever used argan oil? What's your favorite use?