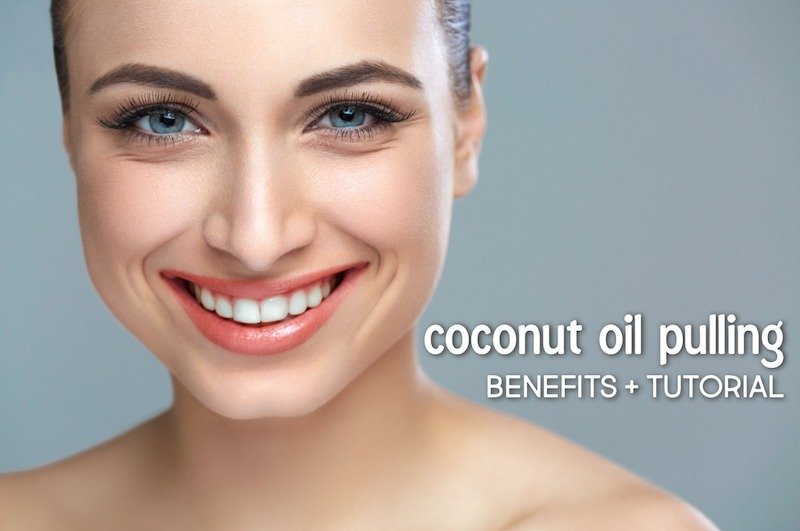 Coconut oil pulling has gained popularity recently due to its ability to promote oral health. Many people even suggest adding essential oils like peppermint to the regimen to improve breath – so everyone wins! The benefits of oil pulling are vast, and the options of which oil to pull with are varied. So which option is best? What's oil pulling good for? And how do you do it?
What is Oil Pulling?
Oil pulling is a way to naturally detox the mouth and gums. Essentially, it's using an organic, high quality oil like a mouthwash to cleanse the mouth. Really, the action involved is more of an oil-swishing.
So why is it called oil pulling?
The "pulling" part refers to the fact that the process pulls bacteria out of the gums, giving you a clean oral environment. It literally sucks the toxins out of your mouth, priming your mouth for optimal function and protecting it from disease.
Typically, the process involves swishing a tablespoon of quality oil in your mouth for 20 minutes each day. More on that below.
But first, did you know that oil pulling has been controversial in recent years? Despite involving only food-grade oils that could be eaten anyway, mainstream media has expressed concerns over this "fad". But is oil pulling really a modern technique?
History of Oil Pulling
Once upon a time, people didn't use nylon bristle toothbrushes, tubed toothpaste, and waxed floss.
Can you believe it?! 😉
Instead, ancient peoples ate real, nourishing foods. Some peoples, depending on their culture and religious beliefs, oil pulled to prevent their teeth from rotting, along with using chew sticks. So the notion that oil pulling is some fleeting practice having its fifteen minutes of fame is completely inaccurate.
Benefits of Oil Pulling
Spending a few minutes oil pulling each day (or at least 3-4 times/week) may seem like a tedious practice, but once you discover the many health benefits of coconut oil pulling, it will be a ritual you gladly welcome into your morning routine.
Coconut oil pulling can:
Reduce bad breath
Cure tooth decay
Strengthen gums (and prevent bleeding)
Remedy dry throat
Protect against oral disease
Moisten lips
Whiten teeth
Which Oil is Best for Oil Pulling?
Ancient cultures used sesame oil or sunflower oil, but I think coconut oil is best for this practice. Coconut oil is naturally antibacterial, which takes the detoxification benefits to new heights. As Katie says,
Coconut oil is effective in attacking Streptococcus Mutans bacteria which causes cavities. It is rich in medium chain triglycerides and high in lauric acid…In my personal experience, coconut oil pulling is more effective at removing plaque and whitening teeth than sesame oil, although I don't have any scientific studies that prove the difference.
How to Do Coconut Oil Pulling
Make sure you oil pull first thing in the morning, or when you have an empty stomach.
Put about 1 Tablespoon of coconut oil in your mouth. You can add safe essential oils for additional benefits. I like using peppermint, clove, or tea tree oil.
Gently swish the coconut oil in your mouth and between your teeth for 20 minutes. This timing is important, as it is long enough to pull out the toxins from the mouth, but not long enough for the body to start re-absorbing the toxins. The oil will get thicker and milkier the longer you swish as it mixes with your saliva.
After 20 minutes, spit out the oil in the trash (don't spit it down the sink as it can clog the pipes).
Rinse with warm water. You can even add a natural salt to the water for an extra bacteria-killing boost.
Brush your teeth with a natural brushing blend or remineralizing toothpaste.
Oil Pulling Cautions
While coconut oil pulling is a great alternative to mouth wash, it should not replace all oral health regiments like brushing your teeth.
If you have a negative reaction when ingesting coconut oil, then you should not use it for oil pulling. In this case, sesame oil is a good alternative.
For some, oil pulling can trigger the gag reflex. If this happens, try warming the oil first to thin it out, and then swish while leaning your head forward.
You may find that your jaw is sore the first few times you try oil pulling. If this happens, try swishing less vigorously and not pulling so intensely through your teeth. When done properly, oil pulling should not cause discomfort.
Coconut oil pulling is generally considered safe during pregnancy, since you are spitting out any and all toxins; but always check with your midwife or OB before beginning this practice.
Have you incorporated coconut oil pulling into your oral health routine? What differences have you noticed?