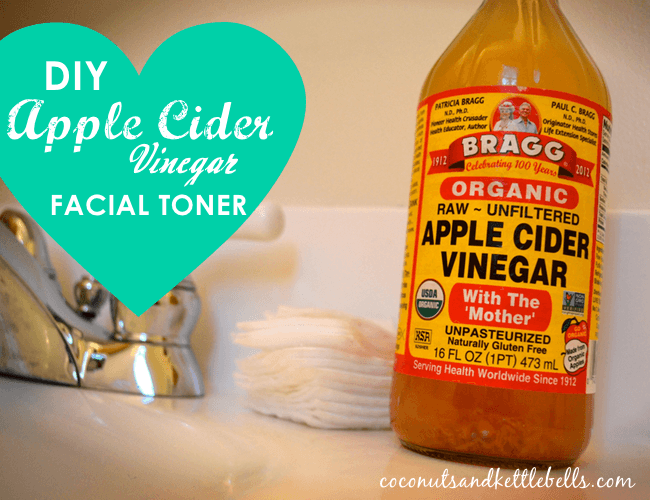 We have all heard that facial toners are a must-have and must-use in order to obtain clear, tight, and smooth skin. Unfortunately, commercial toners are often laden with numerous chemicals with names as funky as their makeup. In this post from Noelle, the "need" for toner is explored and explained. She also suggests using Apple Cider Vinegar in an easy DIY Apple Cider Vinegar facial toner recipe!
"Ah, the beloved toner. It's part of the three step process we must do to get clear, beautiful skin. How could you go from cleansing to moisturizing without toning? Science shows that it… tones… our pours, and makes us look… toner?
Ok, hold the phone. If you've read much about the truth behind eating real human food, you'll know not to believe the claims from industry giants regarding our health. Chances are, once you began learning about the toxins listed on food labels, you naturally began to wonder about the chemical concoctions you were putting in your pits, on your face, and scrubbing into your scalp.(Welcome to "enlightenment" my friends… it's only just the beginning.) Although there is much to be said about beauty and cosmetic products – today, we're going to start with our little friend,toner.
Toners
The act of cleansing, toning and moisturizing dates back thousands of years. Depending on the geographic location of a culture and the plants and animals native to that specific region, evidence shows ancient cultures utilized avocado, palm oil, and a combination of olive oils and spices for moisturizing, animal fats and salts for cleansing, and botanical waters and natural astringents for "freshening" the skin. In fact, in the early 1900s, women (our great grandmothers!) were still making their own skin care products for toning and brightening skin from unprocessed milks, lemon juice, witch hazel, and vinegar."