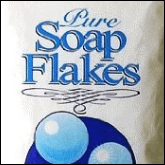 In the practice of natural living, one must evaluate every product that's within their home. Why? Because many cleaning supplies are full of toxins that are breathed in and/or come in contact with skin, the body's largest organ. It's no different when it comes to laundry detergent. Most commercial laundry detergents are full of toxic ingredients that in turn are transferred to the skin via clothing. This DIY laundry detergent is an excellent alternative. With only four ingredients, it is easy and inexpensive to make, and is even more effective than commercial laundry detergent!
"Laundry detergent can be made out of some very basic cleaning products. It's easy, inexpense, eco-friendly and toxin-free.
This very basic DIY recipe for Laundry Detergent is:
1/3 cup Soap Flakes or shave a pure soap such as Castile Bar Soap

1/4 cup Baking Soda
1/2 cup Washing Soda
1/2 cup Borax
Mix ingredients together and keep it in container.
Use 1-2 Tablespoons for a normal wash depending on your type of washer (for example – 1 Tbs. for front load with less water or a small top load, 2 Tbs. for a regular top load). You may want to double amount for a heavy or soiled load.
Note, any bar soap that is rather pure soap, can be shaven and used in place of Soap Flakes. Both drugstore.com
 and Amazon offer Kirk's Castile Bar Soap as well as all the other ingredients listed above… a couple of my one of my one-stop shopping sites.
This is a basic recipe, but you can add to it if you'd like. For example, if your water is very hard, you may want to add a bit more baking soda.
It's that simple!
Common laundry cleaning ingredients and their uses are:
Soap Flakes: cleans out dirt and grease and is water soluble.
Baking Soda: Deodorizes and softens water, good for spot cleaning as a paste.
Washing Soda: similar to baking soda, but more powerful by pulling out grease and oil and also softens water."