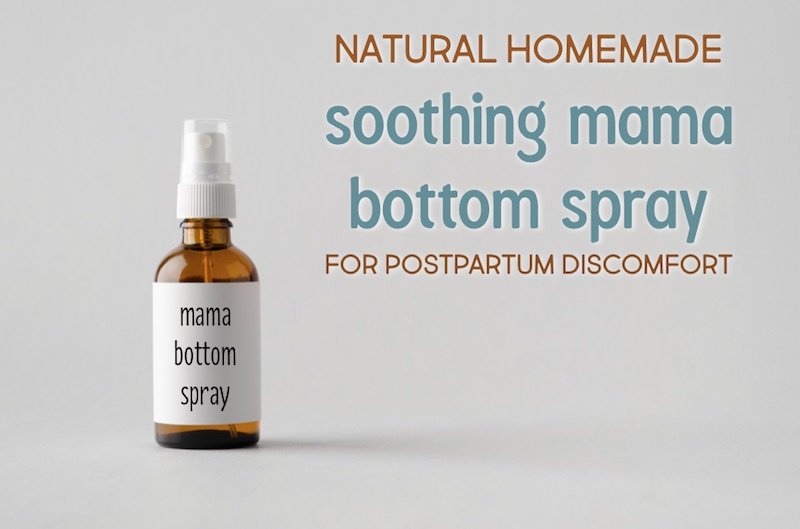 Afterbirth aches and pains can be difficult for a mama whose body just went through the beautiful but trying process of labor and delivery. When I had my first child, I thought the labor part was going to be the challenge, and that everything from that point was smooth sailing. On the contrary, I found the healing process to be at least as difficult, if not more difficult, than the labor itself. Amidst all the changes of life with a new baby, a sore bottom for mama is not the most enjoyable addition. This soothing DIY mama bottom spray, made with witch hazel, aloe, and essential oils, is ideal for postpartum aches and pains. It brings immediate relief to pain and tenderness and speeds healing and recovery.
DIY Mama Bottom Spray Ingredients
The ingredients in this DIY mama bottom spray are intentionally chosen for their ability to soothe, tone, and heal.
Lavender essential oil – Lavender is known for its ability to heal skin imperfections. It soothes the bottom after the trauma of birth and speeds recovery.
Peppermint essential oil – Peppermint oil acts as natural numbing agent, cooling the area that often feels hot in the days following childbirth.
Roman Chamomile essential oil – Roman chamomile calms and safely soothes. It can reduce swelling, too.
Frankincense essential oil – Frankincense is wildly popular for its potential to heal skin irritation.
Aloe vera gel – Aloe vera gel is cooling. It really brings so much relief.
Witch hazel – Witch hazel works as an astringent to keep the area clean and disinfected.
How to Make DIY Mama Bottom Spray
This spray is safe to use after birth, even while bleeding, and is safe to use with stitches. I like to make a batch in the days before giving birth so I have it on hand as soon as we return from the hospital.
Ingredients
Instructions
Fill the glass bottle halfway with witch hazel. Add vegetable glycerin, aloe vera gel, and essential oils and swirl vigorously to combine.
Fill the rest of the bottle with distilled water. Shake well.
How to Use
Before each use, shake the bottle to combine after any resettling. Use after each bathroom use or as needed.
Want Extra Relief?
You can use the same ingredients in the DIY mama bottom spray to create pad-sicles. Combine all the ingredients in a large bowl. Lay out large pads (the kind typically used postpartum). Spoon the mixture onto several pads. I usually make 10-15. Let rest for several minutes and allow the mixture to soak into the pad. Wrap pads in aluminum foil and place in the freezer. After birth, remove a pad from the freezer and use as normal. It will bring great relief and the extra coolness from the freezer is soothing.
What do you put in your postpartum care kit?