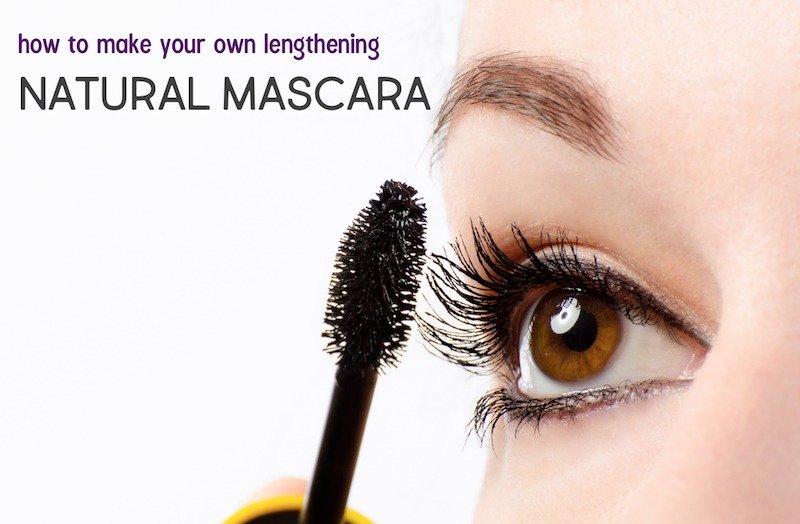 Ladies, this post is for you. If you've been pursuing a more natural lifestyle, then you've probably thought about your conventional makeup, right? Is it safe? What chemicals are lurking there? Unfortunately, your hunch is probably dead on. There are many harmful chemicals in most conventional makeup products, and since our skin is our largest organ, it's best to avoid them when possible. We love making our own foundation and even makeup remover. This DIY natural mascara recipe is another great one to add to your beauty arsenal. It's made with all-natural ingredients that will leave your lashes healthy and looking long and full!
Should I Be Using Natural Mascara?
When it comes to the type of beauty products we use, makeup can play a big role in our health. Like we mentioned before, the skin is the largest organ and, if on average, women wear make up every day, then that means substances are soaking into your skin very regularly. So what those substances are and what they're made of matter quite a bit.
For a long time, I've used this pre-made organic mascara, which has a very high safety rating. I like it and it remains my go-to mascara, especially when I run out of mascara without realizing it's time to make a new batch, or when life is just a bit too hectic to make my own. But I'm always looking for the best homemade makeup, and while it took me a long time to finally settle on this recipe, I've been very happy using this DIY natural mascara recipe.
How to Make Your Lashes Thicker and Longer
The best part about this DIY natural mascara is that it has a secret ingredient that will help make your eyelashes grow longer and fuller.
Lavender essential oil.
Lavender promotes healthy hair growth without being too harsh to use around the eye. I've been testing this for months now and I can say with confidence that I notice a difference when I'm using lavender essential oil in my homemade mascara. My lashes have definitely grown more quickly, and each lash has become much thicker.
While purchasing some of these ingredients up front may be more expensive than a single tube of store-bough mascara, they will last you a long time and will end up saving you money in the long run.
At the end of the day, choosing between pre-made organic mascara and a homemade version comes down to personal preference and time/budget constraints.
DIY Natural Mascara Recipe
Want to try making your own? It's simple!
Ingredients
1/4 tsp black mineral powder
1/4 tsp bentonite clay
5 drops vegetable glycerine
1/4 tsp aloe vera gel
5 drops lavender essential oil
How to Make
In a small bowl, mix all the ingredients together until smooth. Add more aloe vera gel if needed until you achieve the desired consistency.
Using a spatula, carefully scoop mixture into a medicine dropper.
Empty the medicine dropper into a clear mascara tube.
Use as you would regular mascara.
Notes
To remove, use a washcloth with warm water or olive oil as a natural make up remover.
To increase the thickness of lashes even more, curl them with and eyelash curler, then dust lightly with arrowroot powder, and finally apply the homemade mascara. It may sound like a process, but it truly doesn't take long and the results are well worth it!
These also make a great gift for Christmas, birthdays, Mother's Day, baby showers, and even girls' night out goodies. You can increase the ingredients listed as needed to make bigger batches.
Have you ever made your own makeup? What's your favorite thing to make?