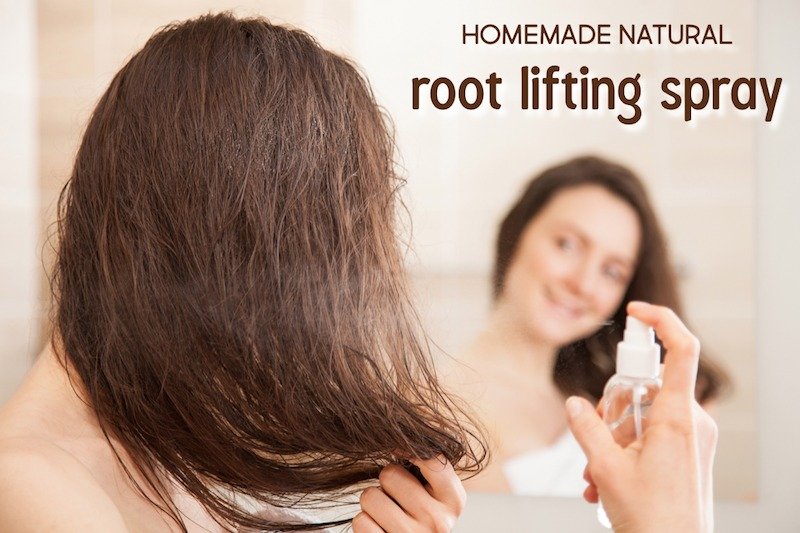 Let's be honest, ladies. We love our hair. It's important to us and we want to make sure it's taken care of properly, right? Often, then, we are bombarded with innumerable pitches for different popular hair products, ranging from hair spray to dry shampoo to mouse to frizz control to hair detox to heat protectant to gel, and the list goes on and on. A top seller on that list is root lifting spray, and it's easy to understand why. Who doesn't want an extra lift at their roots? Who isn't looking for that I-just-got-an-awesome-blowout look? Unfortunately, most of these products are heavily toxic, containing ingredients that are extremely difficult to pronounce (red flag). That's why we came up with our own natural DIY root lifting spray for increasing hair volume.
The Problem with Most Store-Bought Hair Products
When it comes to store-bought hair products, you can feel how chemical laden they are; yet, we still want the results they sometimes deliver. But if we are truly adamant about eating real food that is non-toxic, then we should also be concerned about what we put on our skin (it is the body's largest organ, after all).
Then there are the products that claim to be "natural". We may think we've found the golden nugget when we see the words "all-natural" bolded across a label. But truth be told, again, even these so called "natural" products are frequently full of harmful chemicals that you don't want coming close to your scalp.
So what's a girl to do? Give up on the desire to have great hair? Of course not 😉 By making your own natural hair products (or only buying TRULY natural ones), you can avoid the toxic chemicals found in store-bought products and save money. Win-win! This natural DIY root lifting spray is a fantastic example. Not only is it free from harsh chemicals, but it contains ingredients that actually promote the health of your hair.
Rosemary and nettle stimulate hair growth; chamomile adds shine; and bergamot repairs damage and gives your hair a nice silky feel. So ditch the name-brand hair products and make your own! We bet that you will love the results even more, and you won't have to worry about the long-term effects the root lifting spray is having on your health!
Herbal Benefits in Root Lifting Spray
The secret weapons in this root lifting spray are the beneficial ingredients. Did you know herbs could actually be good for your hair? Here's the lowdown:
Rosemary – Promotes hair growth
Nettle – Reduces hair loss
Chamomile – Adds shine
Sea salt – Adds texture
Essential Oils for Hair Health
In additional to the herbs, this root lifting spray recipe contains essential oils that promote hair health as well.
Bergamot – Repairs damage
Cedarwood – Stimulates hair growth
Lavender – Can create deeper and more numerous hair follicles for stronger roots
Natural DIY Root Lifting Spray
Ready to achieve the voluminous roots you want without chemical harassment? Grab these natural ingredients and get to it!
Ingredients
2 cups filtered water
4 springs fresh rosemary
4 Tbsp dried nettle
2 Tbsp white sugar (yes, it's bad for your gut, but great for your hair)
2 Tbsp sea salt
4 Tbsp aloe vera gel (or you can make your own)
4 Tbsp vegetable glycerin
20 drops bergamot essential oil
20 drops cedarwood essential oil
20 drops lavender essential oil
Instructions
In a small pot, bring the water, rosemary, and nettle to a boil.
Reduce the heat and allow the mixture to steep for about 25 minutes.
Strain the mixture through a fine mesh strainer.
Stir in the sugar and salt and allow the mixture to cool.
Add the aloe vera gel and vegetable glycerin. Stir to combine.
Add the essentials oils.
Using a funnel, pour mixture into a large glass spray bottle (like this one). Give it a good shake to combine.
To Use
Shake before each use.
After your shower, spray a small amount on your roots.
Blow dry your hair, brushing your hair up and away from your roots (hanging your head upside down helps with the volume-factor, too!).
Do you love a good natural DIY? Share with your friends!