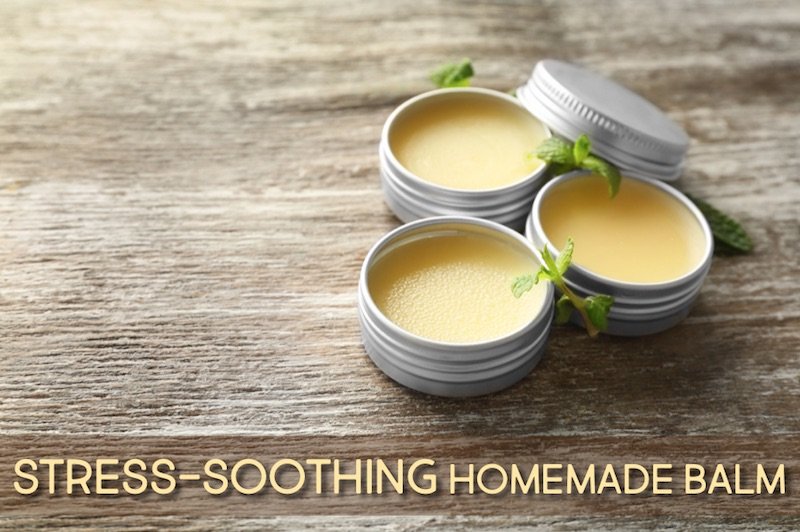 Something we all have in common is stress. The degrees to which we allow ourselves to experience stress may vary, but one thing is certain: we all have to deal with it somehow, some way. Some people enjoy a running exercise to release stress, others spend time in the kitchen with their kids, others carve out some time for an occasional personal retreat, and others treat themselves to a luxurious bath with lavender and mint salts. We enjoy all these forms of stress relief, and we will be adding this lovely DIY stress soothing balm to our stress-be-gone-arsenal. Made with essential oils and magnesium oil, it's the perfectly smooth combination to help you relax, especially in the midst of high stress.
Natural Stress Relief
If you're doubting the ability of a simple balm to sooth your stress, I understand. It can seem like a wild claim.
So what is it about the balm that makes it so relaxing?
Essential oils and magnesium oil reach the nervous system through a series of biochemical reactions, helping us to actually relax at a cellular level.
The fragrance of essential oils, in particular, stimulate the olfactory nerve, influencing our moods for the better. Further, the olfactory bulb is located in the limbic system, which controls the memories and emotions. When those nerves are stimulated with mood-boosting fragrances, our thought patterns and emotions can shift.
Magnesium is also known for its stress-relieving and relaxing effect. Most of us are also deficient. Interestingly, when we are under stress, our bodies require an increase in magnesium so we can process the applied stress response. When we don't have enough magnesium, the stress on our body increase, feeding into the vicious cycle. So this DIY stress soothing balm is another way to both relax and help your body get the magnesium it needs to function properly.
DIY Stress Soothing Balm
The ingredients used in this balm each serve a purpose of stress-relief and relaxation.
Magnesium oil relieves muscle spasms, increases blood flow, and relaxes sore and weary muscles.
Olive oil is a nourishing oil with Vitamin E that soothes and softens the skin.
Lavender oil promotes relaxation, reduces stress, and soothes skin.
Cedarwood oil is often used to promote sleep due its ability to relax the body and mind.
Vanilla extract stimulates the mind and offers a warm, comforting scent.
You can also substitute other essential oils if you prefer. Essential oils like frankincense, ylang ylang, bergamot, and chamomile are fantastic stress relieving oils.
Some people don't like the smell of vanilla extract; feel free to omit if you wouldn't find it relaxing.
How to Make Stress Soothing Balm
If you're ready to unwind and relax at the end of the day, this DIY stress soothing balm is for you. I keep it in my nightstand and apply it before bed to help me relax.
Ingredients
Instructions
Place beeswax and olive oil in a mason jar and cover with lid. Place the mason jar in a pot of low-simmering water until beeswax is melted and combine with olive oil.
Remove from heat and let cool slightly, but not to the point of hardening.
Add magnesium oil, vanilla extract, and essential oils and whip with a fork to combine. Pour mixture into a jar or small portable container. Place containers in the refrigerator and allow to harden.
How to Use
Apply to the temples, back of the neck, wrists, shoulders, and feet.
Have you ever used magnesium oil?