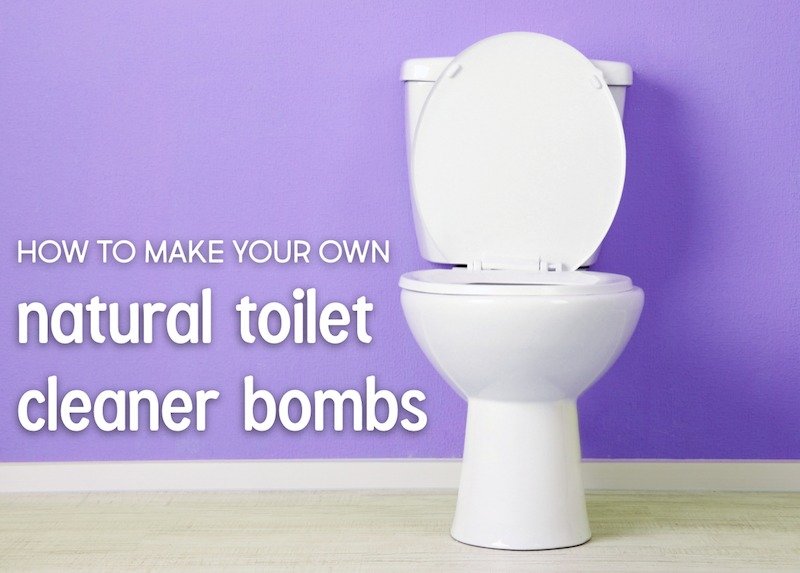 We are big fans of making our own cleaning products. We have found that we save money by making our own, not to mention we avoid countless of harmful chemicals by staying away from the cleaning aisle in the supermarket. Since we do make so many products at home, I like to streamline as much as possible, make in big batches, and simplify the process. That's why we love ideas like turmeric bombs and flu-busting gummy bears to make keeping ourselves healthy easier. These natural DIY toilet cleaner bombs fall into the convenient category. You can simply throw one in while you're cleaning, and they will do their work 🙂
DIY Toilet Cleaner Bombs Recipe
These toilet cleaner bombs are made with natural ingredients that are extremely effective against dirt and germs. They're also safe, meaning you can get the kids involved in household chores without worrying about what they're touching or inhaling. These will make your life so much easier and free up your time so you can focus on what matters most to you.
Ingredients
1 cup baking soda
1/2 cup citric acid
1 Tablespoon salt
20 drops essential oil of choice (be sure to use one that's effective in cleaning and disinfecting like tea tree, lemon, or basil)
spray bottle with water
silicone mold (like this one)
Instructions
In a medium bowl, combine baking soda, citric acid, and salt. I suggest wearing gloves for this part.
Mist the mixture with the water in the spray bottle. Stir as you go. Do not over-mist – it will cause fizzing. You want the mixture to be barely damp enough to stick together. One or two sprays will do.
Add the essential oils and stir to combine.
Fill the molds with the mixture and allow to dry overnight. Remove from molds and store in an airtight container.
How to Use DIY Toilet Cleaner Bombs
It couldn't be simpler. Just toss a toilet cleaner bomb into the toilet. Let it dissolve. If needed, you can scrub the bowl with a toilet brush. To finish, flush.
I also use these to clean sinks and the bathtub. I simply fill the sink or tub with warm water and drop a toilet cleaner bomb in. I let it dissolve and scrub the surface if needed. Then, I let the water drain and rinse the bowl or tub.
These DIY toilet cleaner bombs are so versatile!
Natural Bathroom Cleaning
If you're interested in other natural cleaners for bathroom surfaces, check out these simple, budget-friendly, and non-toxic recipes:
What if I Don't Want to Make My Own Cleaners?
We totally get that. There are busy seasons in life that leave us thankful for green, non-toxic pre-made option. When looking for quality bathroom cleaners that are safe and that won't break the budget, we always find what we need from Branch Basics.
What are your favorite natural cleaning hacks for the bathroom? Share in the comments!