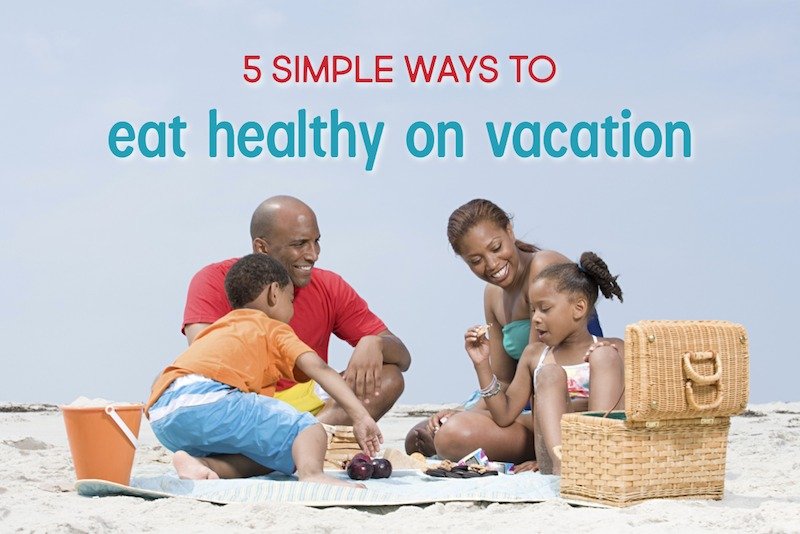 Our family loves to travel. We enjoy traveling to exotic places on our own for various work trips, but our very favorite trips are the vacations we take together. We so our best to stick to our normal health routine while on the road, including working out and eating healthy. Especially when traveling with family, you probably want to know how to eat healthy on vacation without driving everyone crazy. There's more planning and preparation involved, but it will save you from many break downs while you're supposed to be relaxing and having fun.
How to Eat Healthy on Vacation
These tips will not only help ensure everyone feels their best so they can truly enjoy vacation, they also encourage adventure and family bonding!
1. Research and Plan in Advance
This is listed as number one because it is the most important tip I can offer you. As the old adage warns, "If you fail to plan, you plan to fail." Research the area(s) to which you are traveling. What are the local favorites? Are there any "mom and pop" restaurants that will be more likely to serve fresh and/or organic foods? Is there a local farmers' market where you can eat and shop? Do you know anyone who lives in the area? Ask them for their best recommendations. When you plan your outings, your shopping, and your meals in advance, everything will go more smoothly and you'll be better equipped to eat healthy on vacation.
2. Pack Healthy Snacks
This is a tip that, when left unattended, can wreck a vacation before you even arrive at your destination. Packing healthy snacks for both the car or plane ride and for times at hotels or before you're able to get to the grocery is clutch, especially when traveling with kids. The snacks should be nutritious, filling, and should travel well. Here are some of our go-to healthy snacks for trips:
Apples
Homemade Lara Bars
Bananas
Apple sauce
Homemade granola bars
Nitrate-free lunch meat
Organic, grass-fed cheese sticks
3. Eat Local
When eating out on vacation, choose the local joints. They are most likely to have the freshest food that is in season, and it will probably taste the best. Many vacations spots now have many organic and healthy options. A little forethought will go a long way and will help you eat nutritious and delicious foods that you might not experience elsewhere.
4. Meal Plan Like Normal
One of the biggest breakthroughs I had when it comes to a family vacation is meal planning and meal prepping ahead of time. I use Real Plans to formulate a week's worth of healthy meals, just like always, and then I make what I can in bulk to freeze and bring on vacation with us. It saves me time and even money, especially if we're traveling somewhere with a greater cost of goods. This is a great way to eat healthy on vacation without a lot of stress once the trip begins.
5. Still Skip Trigger Foods
You know your body better than anyone else. What foods leave you feeling like crud? Identify them and still avoid them even in a more relaxed environment like on vacation. If gluten causes painful inflammation in your joints as soon as you eat it, it may be worth skipping the pizza everyone is sharing on the beach. The pain and discomfort you will experience later may not be worth it. But maybe you tolerate dairy and choose to enjoy a nice scoop of ice cream at the local creamery. Feeling bad will not make your vacation better, no matter how fun the food is. Know what foods make you feel the worst and choose to still avoid those, and let yourself get wild in other food groups.
What Matters Most…
At the end of the day, vacation should not be a time to stress about food choices. Vacation is meant for relaxation and fun! And if you're not having fun, then what's the point? So don't fret over maintaining the "perfect" diet or balance while on vacation. Do the best you can and enjoy yourself!
What are your tricks for eating real food on vacation?