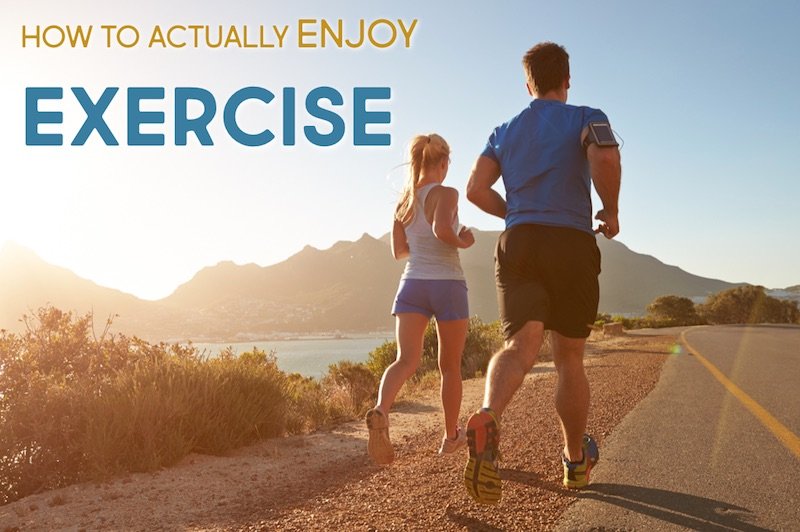 It's no secret that exercise is vital when it comes to maintaining our overall health. Working out is not only good for our bodies, but our minds and spirits as well. When we put stock into our physical fitness, we set our minds on our total health. I find that, when I take the time to complete a short kettlebell exercise or focus on body weight training in the morning, I make better choices for myself throughout the rest of the day. I choose healthier foods, I remember to take time to pray or meditate, and my stress levels are much lower. But we don't always want to exercise, and it can be difficult to find the motivation. Here's how to enjoy exercise so that your healthy habits are sustainable.
How to Enjoy Exercise
Do What You Like
The best way to set yourself up for success when it comes to exercise is to actually do something you enjoy. While it's ideal to try new forms and methods of exercise (in fact, that is a great way to make fitness a habit), "making yourself" go to classes or use workout videos you don't like won't serve you best in the longterm. Find something you like and stick with it as long as you enjoy it!
Do it Outside
Another way to enjoy exercise is to work out outside. Sunshine! Fresh air! There are so many benefits to spending time outside, why not exercise outdoors, too? The increase in Vitamin D is good for our health and research has shown that being outdoors can help reduce depression and anxiety.
Find a Friend
I know a woman who takes daily walks with her best friend. They've been doing this for 20 years. Every evening, summer or winter, they set out for a five mile walk. They wave at neighbors and talk about the day's events, what their children are up to, and what they're making for dinner that night. And they're both incredibly healthy. If taking walks – or training for marathons, or playing tennis, or jousting – with your buddy will keep you motivated to move, take advantage of the opportunity and bond while you stay healthy!
Don't Exercise – Play
A fun way to actually enjoy exercise is to reframe your mindset. If lifting heavy weights in a gym or running several miles is not your idea of fun, try to find other, outside-the-box ways to move. Jump on the trampoline with your kids, climb trees, or ride your bike to the market. By changing your approach to fitness from a "must do" to a "get to," you're much likely to follow through and enjoy yourself in the process.
Determine Your Purpose
What's your motivation? What's the purpose of your exercise? Are you wanting to make movement a part of your daily rhythm? Wanting to get to a healthier weight? Wanting to train for an event or a race? Wanting to feel stronger? By determining the purpose of your exercise, you'll have a clearer goal and motivation for daily fitness.
Distract Yourself
This tip is key for me. I'm not someone who naturally enjoys working out consistently. So I find ways to distract myself. I like hitting the treadmill, but mostly so I can watch a favorite TV show while I run. Lifting weights is fine as long as I have a good podcast in my earbuds. If working out isn't a favorite hobby of yours, do something to distract yourself.
Keep a Fitness Journal
Tracking your progress can help you enjoy exercise. Yes, this can mean recording your weight and measurements and watching those change as you become more fit. But the true best way to keep a fitness journal is to record how you feel. Pay attention to how your body feels when you're exercising. Take note of how you feel after eating certain foods. Being aware of how exercise is improving your emotional and mental health and seeing the progress and trends will help keep you motivated to keep at it.
And Stop Focusing on the Wrong Goals
Finally, stop worrying about the "final result." So many of us begin an exercise regiment attached to a certain outcome. We obsess over numbers and rates to the point that exercise is no longer enjoyable, but instead becomes a guilt-ridden tool to make ourselves miserable. We set ourselves up for failure when we are more concerned with our ideal outcome than the process itself. Your fitness journal should be a source of encouragement and motivation; but using it to outline expectations that are out of your control can be discouraging and detrimental to your progress. Just remember to enjoy exercise, to have fun while moving, and to focus on the greatest goal, which is a lifetime of health and wellbeing.
What are your tips for having fun working out? Share below!