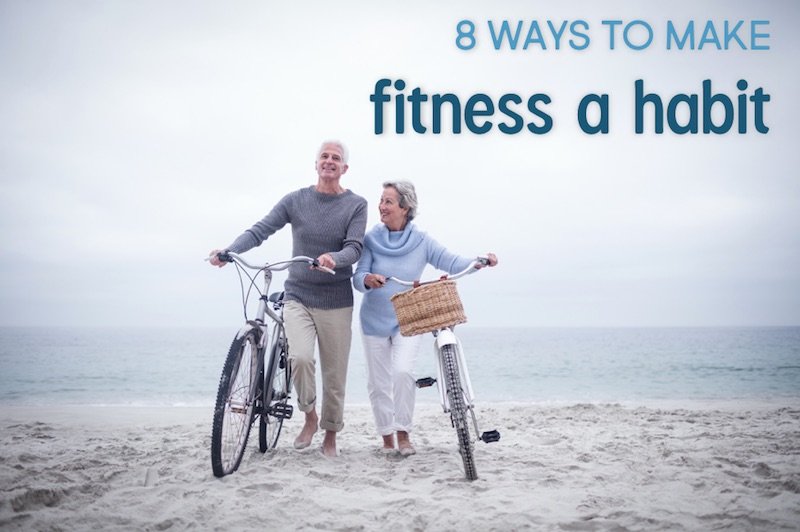 Many of us desire to incorporate fitness into our daily routines. We want to be movers, we want to support our bodies, and we want to be able to one day run with our grandkids. But obstacles tend to arise frequently, like time and circumstances. That's why we like quick and functional workouts like this intense 12-minute workout and these movements to reduce the effects of sitting. If you're looking for ideas for forming a fitness routine that you can stick with, this post outlines simple ways to make fitness a habit!
8 Ways to Make Fitness a Habit
1. Shift Your Mindset from Exercise to Movement
Sometimes we are our own worst enemies. For some reason, when we think of "exercise," many of us immediately rebel against the idea. We often see exercise as a chore. Something we have to wear specific clothes for, or take a class for, or pay money for. Because of this, many of us give up on exercise before we even start.
By shifting our mindset from exercise to movement, we set ourselves up for success. Instead of reserving all movement for a one-hour period per day, think of ways to incorporate movement throughout your day. For example:
Do a few squats while your dinner is cooking
Actually play with your kids at the park (think monkey bars!)
Take the stairs instead of the elevator
Get up from your desk at work every hour and walk around the office
2. Do Something You Enjoy
This may sound obvious, but I think many of us force ourselves to adopt a certain exercise lifestyle that might not actually align with our preferences. This can be especially true when it comes to fad fitness programs. Just because our sister, our neighbor, or our best friend are into the latest and greatest fitness trend doesn't mean it has to resonate with us, too. We will make fitness a habit when we find something we enjoy. In order to find what you really have fun doing, try experimenting with different forms of exercise.
3. Set Reminders
I like to set reminders on my phone to move every hour. At the top of each hour, my phone will buzz, and it has been a fantastic reminder to get up and move my body. I walk around the house, stretch, do 10 jumping jacks, or another short and simple movement to get my blood flowing. A kitchen timer also works!
Additionally, you can pin movement to other consistent events throughout your day. Do you have a work meeting at the same time each morning? Make it a habit to stretch beforehand. Pick your kids up from school at the same time every day? Do a few high knees before you get in the car. By associating fitness with certain consistent activities or responsibilities throughout the day, you signal your brain to remember to move at those times.
4. Have an Exercise Buddy
There's nothing like accountability! Team up with a spouse, a friend, a coworker, or a family member. You can hold one another accountable, and working out with someone you like makes fitness much more fun. Having someone in it with you is also a great way to push yourself. As self-motivated as I am, I will still work harder when there's someone beside me, encouraging me and challenging me to be and do even better. Schedule times to walk together or attend a fitness class together. Making appointments with an exercise buddy ensures fitness remains a priority.
5. Track Your Progress
Keeping track of your progress is a great way to stay motivated. It proves your progress in a concrete way and pushes you to keep at it. I like to track my daily steps with a fitness tracker. My fitness tracker reminds me to move every hour, and I like the challenge of hitting a certain amount of steps per day. This is my favorite way to track progress.
But there are other ways to see your progress. Think about your specific fitness goals. Do you want to lose weight? Do you want to conquer a certain exercise or lift a certain amount? Do you want to reach a certain time in the race you signed up for? Set a clear goal and track your progress as you move closer to achieving it. Which brings me to…
6. Start with Small Goals
If you haven't run since high school, don't make it a goal to run a marathon next month. You'll be setting yourself up for failure. In the same way progress motivates us, achieving goals quickly motivates us. Set a small goal that you can reach within a week or so. Hitting that goal releases "feel good" hormones that will spur you on to set and reach a bigger goal. Fitness doesn't have to be, and shouldn't be, all or nothing. Start small, being realistic with where you are and what your life currently looks like, and set small, achievable goals from there. It's great to set larger goals (like running that marathon), just make sure you place stepping stone goals along the way to help you stay focused.
7. Include Variety
Many of us start a new fitness routine only to find ourselves bored after a few months. The pilates class we initially loved no longer interests us, or we get tired of seeing the same route while running each day. When you sense yourself growing restless with a particular fitness routine, start thinking about ways to change it up. Adding a variety of exercise will keep you engaged and motivated. By being aware of this, you can have "plan B" exercises in mind so that you don't abandon your hard work out of sheer boredom.
8. Ditch the Excuses
Finally, and this might be the biggest challenge, we have to reject our excuses. I can hear myself now, rattling off the reasons why I can't exercise on a given day:
"That gym costs too much."
"There are so many more important things to do."
"I don't have time."
"My kids/job/life are demanding and I don't have the energy."
At the end of the day, these are just that: excuses. That don't hold any real weight, and if I'm honest, I feel worse about myself when I surrender to them. Yes, we all encounter obstacles when it comes to fitting fitness into our busy lives, but there is always a solution. Exercise doesn't have to cost a lot of money or take a lot of time, and it actually increases your energy levels. Ultimately, your biggest excuse is yourself. Once you get over that, anything is possible.
What ways do you make fitness a priority in your life?