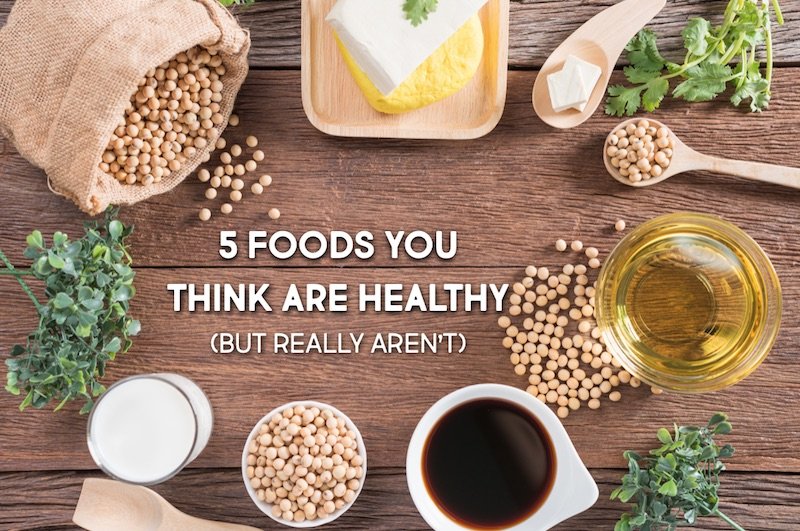 For a long time, I bought into every fad diet and nutritional advice out there. I eliminated all fat, even the good, necessary kind, from my diet in fear that it would expand my waistline. I counted calories to no avail and tried to "exercise" off my pizza slices and fried foods. This list of foods you think are healthy but aren't is a great summary of what many people in our world are buying into as well.
5 Foods You Think are Healthy But Aren't
We live in an age of confusing nutritional advice. Science seems to contradict itself and it can leave one feeling frustrated and uncertain about which foods to consume more of and which foods to avoid. Ultimately, we believe in finding a diet that works best for your particular body so that you can feel your best. While we champion a diet loaded wth vegetables, quality-sourced meat, and healthy fats, there are certain foods that should be avoided by all of us.
1. Fruit Juice
When we just consume the juice of the fruit, we miss out on the fiber, which is the part that fills us up and makes us feel full. That means we can much more easily drink 8 oz of orange juice than we can eat the number of oranges it would take to produce 8 oz of juice. Freshly squeezed juice from organic fruit is fine to consume occasionally, but many adults (and children) consume more than 8 oz on a daily basis. And most of that juice is not fresh or organic, but mixed with additional sugars and preservatives.
Here's what to drink instead:
Water – This one is obvious, but there are ways to trick yourself into drinking more water. If you miss the taste of juice, add fresh herbs or fruits to naturally give your water more flavor. Here are some great infused water ideas.
Smoothies – Smoothies are a healthier way to get your dose of fruit flavor (plus the vitamins and minerals). While you're at it, throw some veggies and coconut oil in the smoothie for added nutrition.
2. Soy Products
I'll try to refrain from getting on a soapbox here, but I have strong feelings about the major soy-push in recent decades. Tofu, a product made of soy, is marketed as a healthy meat replacement, but it's anything but. Nearly all soy grown in the U.S. in genetically modified, and it's in nearly all packaged products. The kind of soy available to us today is incredibly difficult to digest. It can also disrupt sex hormones in both men and women.
Need a vegetarian option that serves as a meat replacement? Here's what to eat:
Leafy greens – Foods such as spinach, chard, and kale are rich in iron, amino acids, and other vitamins and minerals that meat can also provide.
3. Low Calorie Packaged Snacks
Throw out the 100-calorie and low fat snacks. You know the ones. The ones that promise you can have your cake and eat it too, without it causing major health concerns. But overtime, they can majorly damage your nutritional supply. Many of these foods are made with a combination of processed ingredients. Additionally, the removal of fat often means sugar, MSG, high fructose corn syrup, and other artificial ingredients are added to replace the flavor that fat adds. So while you might be saving on calories (which we don't care much about anyway), the detrimental effects of sugar and artificial sweeteners will take a greater toll on your health.
Here's what to eat instead:
4. Skim Milk
One of the worst foods you think are healthy is skim milk. We agree with Ron Swanson from Parks and Recreation on this one:
There is only one thing I hate more than lying: skim milk, which is water that's lying about being milk.
Skim milk is the byproduct of what is leftover when the cream (the best and most nutritional part) of the milk is removed. First, let's looks at why this is bad nutritionally. The fat-soluble vitamins in milk, like Vitamin A and Vitamin D, along with the calcium and protein actually need fat to be processed properly by our bodies. When the fat is removed, so are the vitamins and minerals. So when we drink skim milk, we're not getting the nutritional benefits we think we're getting.
Which brings us to the second point to consider. Like we mentioned above, fat is what gives food flavor. When the fat is removed from milk, it really does taste more like water. So in order to give milk more flavor, sugar is added. And we all know how that ends.
If you still think skim milk is our best option when it comes to milk, especially for children, review this study on its link to obesity in children.
Got milk? Here's what to drink:
If you can tolerate dairy, always opt for full-fat, raw, non-homogenized milk.
5. Whole Wheat Products
The way our wheat is grown and processed in today's modern works is vastly different than the methods used centuries ago. Because of this, the "heart healthy" whole wheat products marketed by sub sandwich chains are actually nutritionally void. Further, gluten is linked to a host of health problems, particular those with autoimmune issues or other inflammatory chronic illnesses.
Foods like whole wheat breeds, cereals, and pasta can cause more severe inflammation and can trigger or worsen leaky gut.
Here's what to eat instead:
Have you ever tried a fad health food that left you disappointed?