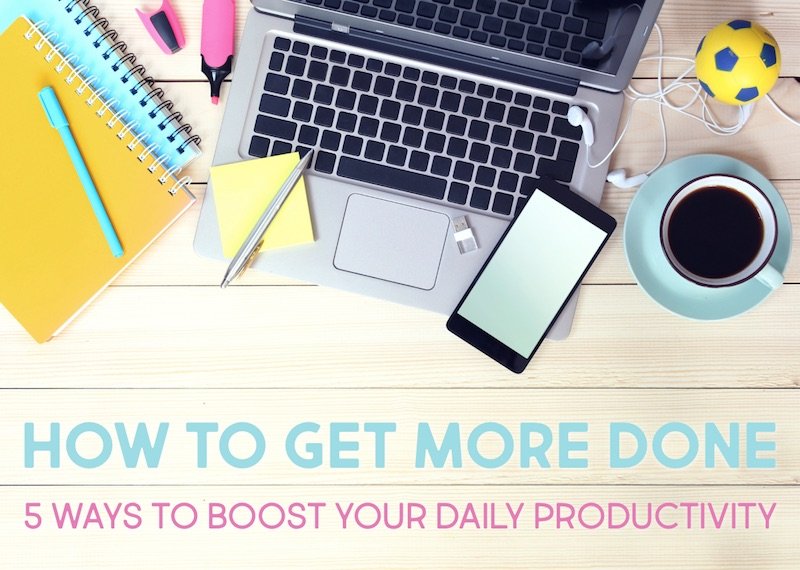 We all want to get more done every day, right? We find ourselves wishing for more time to finish that project, more time to do laundry done, and most importantly, more time to spend with our families. I often find myself saying, "If only we had 28-hour days!" as if I wouldn't fill those four extra hours to the brim.
When we feel overwhelmed by our schedules, we aren't really living. We may end up leading lives that we hadn't imagined. We may be constantly throwing our kids in front of the TV or scrolling through social media mindlessly instead of trying out those DIY no sew towels you've been eyeing on Pinterest. Suddenly, the day is over, we're exhausted, and we're left wondering why we only accomplished three things on our mile-long to do list.
5 Ways to Get More Done Every Day
Being productive isn't only about getting more things done (although that's a big part of it). It's about getting things done more effectively and efficiently, freeing up time for you to enjoy the people and things you care about most. By employing just a few simple hacks in your day-to-day living, you can accomplish more in less time.
1. Limit the Distractions
This is quite possibly the biggest reason we don't get as much done as we'd like. Distractions are everywhere: some are good distractions like your needy toddler or an enthralling book. Others are pure time-sucks, like social media. So many of us struggle to limit our time on social media. We log on to check a Facebook notification and end up spending 30 minutes scrolling through our timeline, watching cat videos and sharing memes.
Now, I'm not suggesting that you delete all social media. I understand the benefits and keep social media around for personal and professional use. What we can do, however, is set boundaries for our social media use. Here are some ideas for boundaries:
Delete social media apps from your phone.
If #1 isn't possible, disable notifications from your social media apps.
There are several apps you can install on your smartphone and your desktop to limit, monitor, or track your time on social media.
2. Brain Dump Every Night
Many of us struggle to fall asleep at night because our minds are racing with everything we need to do the next day. In order to free our brains for quality sleep and to make sure nothing slips through the tasks, take 5 minutes at the end of the day to do a brain dump.
On a blank piece of paper, write down everything that's on your mind: appointments, to-do's, meetings, activities, work or family obligations, and anything else that's weighing on your mind. Don't do anything with those things that night – don't worry about organizing or scheduling. Just get it off your mind and onto paper.
3. Wake Up Early
Then, try to wake up early. This is one of the best ways to get more done every day. If you have children, try to wake up at least a little bit before your children. If you work, try to wake up early to make some time for preparation for the day. Waking up for your day instead of to your day gives you an automatic jumpstart on your activities. This extra time in the morning offers you the space to begin your day with quiet and prayer or meditation, for brewing a good cup of coffee, and sitting down with your brain dump from the night before.
4. Optimize Your To-Do List
While your sipping your coffee, read over your brain dump. Organize your to-do's into three categories:
Very Important Tasks – Choose three most important and urgent for this category. Write them down at the top of your daily to-do list. These three tasks are your must-do's for the day. These take top priority and should be your focus for the day until they're done.
Important Tasks – Choose the next three most important or urgent tasks. Write those down. Once you tackle the most important three tasks, these are up to bat.
Bonus Tasks – You can write the rest of your ideal tasks down or not. After the first two categories are complete, anything else you're able to achieve is gravy!
5. Rest!
The last of the ways to get more done every day is a little counterintuitive. But it's the capstone for the rest of the tips. Without rest, without quality sleep and authentic downtime, we become less productive. All the other ways to get more done every day hinge on this: if we are well-rested, our time will be better spent and we will be able to complete more tasks better and in less time. Rest is foundational for our health and for our productivity!
What are your productivity hacks? How do you get more done every day?