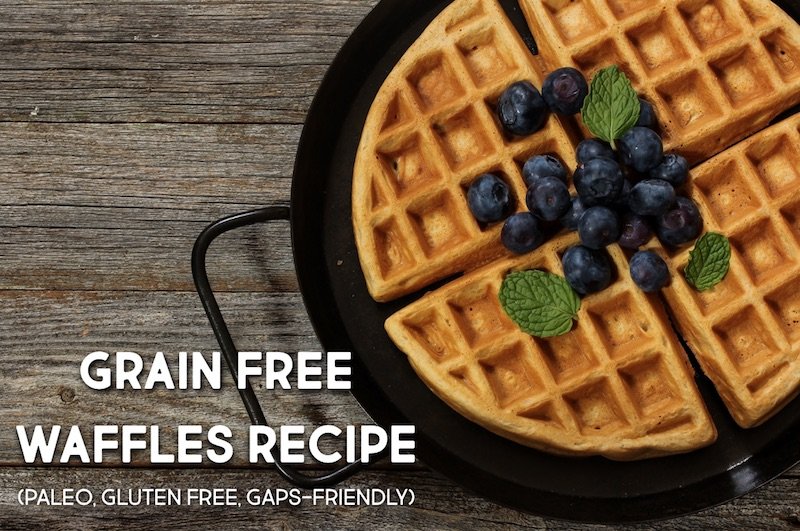 Waffles are a most beloved weekend brunch food, but with this freezer-friendly recipe, you can have them whenever the craving strikes! These grain free waffles are light and crispy and are made with real and healthy ingredients.
A Convenient Breakfast for Busy Mornings
On a typical weekday, breakfast consists of eggs with veggies and sausage, bacon, or leftover meat from the night before. But sometimes we want some variety, like muffins or waffles. Even on such occasions, we don't have much spare time in the mornings for a lavish breakfast, so these foods need to be quick and convenient.
Grain Free Waffles Recipe
These grain free waffles are packed with protein and can be made in advance and frozen. I like to make a big batch at the beginning of the month and freeze them to keep on hand for busy mornings. I simply remove the waffles from the freezer and re-warm in the toaster.
This recipe makes about 4 large waffles (we usually eat just 1/2 waffle per person); double or even triple as needed!
Ingredients
Instructions
Preheat the waffle iron (I like this one).
In a large bowl, mix the dry ingredients together until combined well.
In a medium bowl, beat the egg and add the rest of the ingredients. Whisk to combine.
Slowly pour the wet ingredients into the dry ingredients, staring continuously to mix well.
Carefully ladle the mixture into your waffle iron and let cook according to the waffle iron's instructions and to your preferred doneness.
Eat immediately or allow to cool before freezing.
Notes
These waffles are delicious topped with butter and maple syrup, fresh fruit, or drizzled melted chocolate for fun. If you're feeling really fancy, you can make homemade whipped cream as an added topping.
If you're missing a breakfast sandwich from your fast food days, use two individual sections of a waffle as your "bread" and place a sausage patty with melted cheese on top in between the "slices."
Have you ever made grain free waffles? What's your favorite topping?