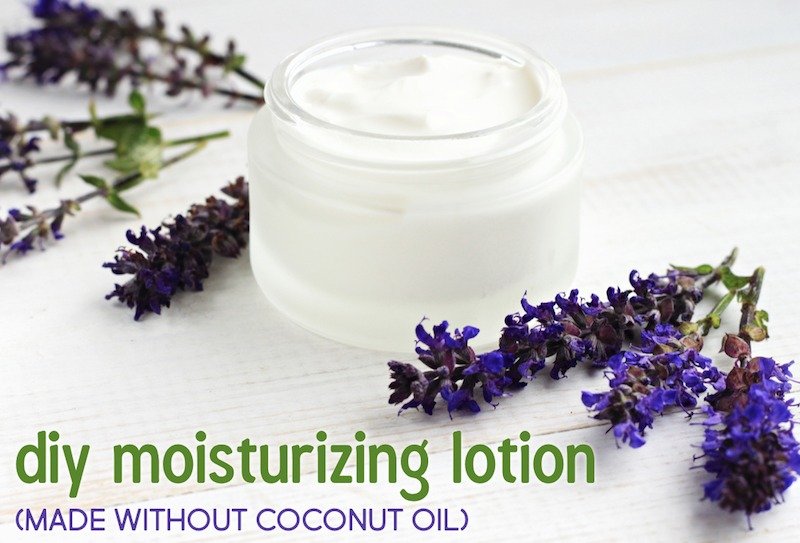 If you are looking to rid your life of harmful toxins, you will eventually come to the dilemma of getting rid of your beauty products. You know you want to ditch the fake, but with what do you replace it? Often times, coconut oil is recommended as a good replacement for body and face lotion, but it doesn't always jive with every skin type. This homemade moisturizing lotion is all-natural and is made with shea butter and essential oils.
Something Coconut Oil Can't Do?
You know that we're a fan of coconut oil and that we use it for nearly everything. So this post isn't intended to bash coconut oil. On the contrary, coconut oil can be incredibly beneficial for skin, and many people use straight coconut oil or coconut oil-based recipes for their facial and body moisturizers.
But sometimes, skin goes through a stage when coconut oil doesn't do the trick. I went through a time like this after the birth of my firstborn. All of a sudden, coconut oil was a little too greasy for my skin and I wanted something a little thicker and more complex than my regular plain coconut oil lotion. So I came up with this recipe and have loved it ever since. If you're looking for a great alternative to coconut oil, this homemade moisturizing lotion recipe is a winner!
Homemade Moisturizing Lotion Recipe
This recipe makes one 8 oz jar of lotion. Feel free to halve or even double the recipe according to your estimated usage.
Ingredients
Instructions
Heat water in a double broiler, or in a glass bowl placed over a pot filled 1/4 way with water, over medium low heat. Add the shea butter and stir until melted.
Remove from heat and stir in the almond oil.
Place mixture in the fridge until it hardens. Then, add the essential oils and whip the mixture until it becomes light. You can use a hand mixer or electronic whisk, or even a fork. Just be careful not to over-mix.
Transfer lotion to glass container. Use on your hands, body, and face as needed.
Notes
Be sure to store the lotion in a cool, dry place.
This particular recipe ends up being more like a body butter than a lotion. I find it to be more luxurious this way. But if you'd like to consistency to be less like a butter and more like a lotion, decrease the amount of shea butter and increase the amount of almond oil (or whatever other oil you choose to use).
The essential oils are optional. You can use any safe oils you like. The ones listed in the recipe are very skin-friendly and nourish and protect the skin.
Have you ever made your own lotion? Would you give this recipe a try?