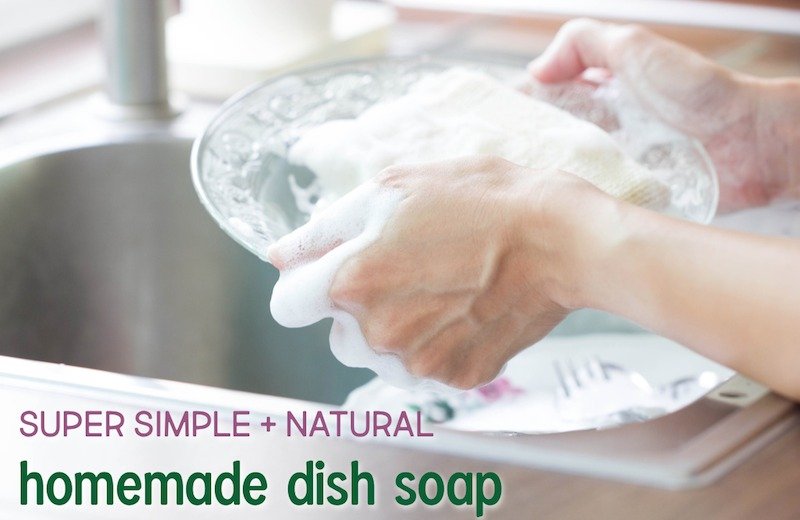 Our kitchen counters are full of mason jars and reusable glass containers filled with all sorts of homemade goodies like liquid hand soap and soft scrub cleaner. Our goal is to rid our home of chemicals and other harmful ingredients, and an easy (and frugal!) way for us to achieve this is by making many of our own cleaning products (or buying them pre-made from a quality, natural source). This easy homemade natural dish soap is a great addition to our lineup. Made with safe, non-toxic ingredients that you most likely already have on hand, it's simple to put together and to refill when needed.
Homemade Natural Dish Soap Ingredients
To fully understand the effectiveness of this dish soap, let's take a look at the ingredients (we bet it's a shorter list than the ones in the store):
Borax – Borax is a controversial ingredient among the natural-minded world. This article from Katie prevents extensive research on the subject. For homemade cleaning products like this, I don't mind using borax. But if you're not comfortable using it, simply omit it.
Washing Soda – Washing soda is known for its ability to eliminate tough dirt and grime. Washing soda gets rid of stains, grease, and odors.
Sal Suds – Similar to castille soap, another favorite natural cleaning ingredient, Sal Suds is tougher on grease and stains from food, which is why I chose it for this particular homemade natural dish soap.
Essential Oils – I like to use tea tree oil and lemon oil for this dish soap. They are both antibacterial and antiseptic, which is what makes them so important in this recipe. Plus, they leave a great natural scent.
Jojoba Oil – This ingredient is technically optional, but it really helps with keeping your hands moisturized when washing dishes. The other effective ingredients can dry your hands out quicker than you might realize, so having an additional milk nourishing oil in the recipe helps keep your hands from suffering.
Homemade Natural Dish Soap Recipe
Ready to literally roll up your sleeves and get those dishes scrubbed?! This recipe fills a standard soap dispenser but can be doubled or tripled if needed (see note at the bottom of the recipe).
Ingredients
Instructions
In a small saucepan, heat the water until just boiling. Remove from heat. Stir in the borax and washing soda until dissolved. Set aside to cool until warm (about 4 minutes).
Add the Sal Suds, essential oils, and jojoba oil (if using) and whisk together until completely incorporated.
Use a funnel to pour mixture into soap dispenser. The soap may settle after a day or so, so just give it a good shake to recombine before using.
Note
Just like any other homemade personal care or cleaning product that uses water, this mixture needs to be used rather quickly. Because of our large family and the fact that we cook at home all the time, I typically go through two batches of this per week. So I'll double this recipe and just make it once each week.
Have you ever made your own cleaning products? What ingredient do you use the most?