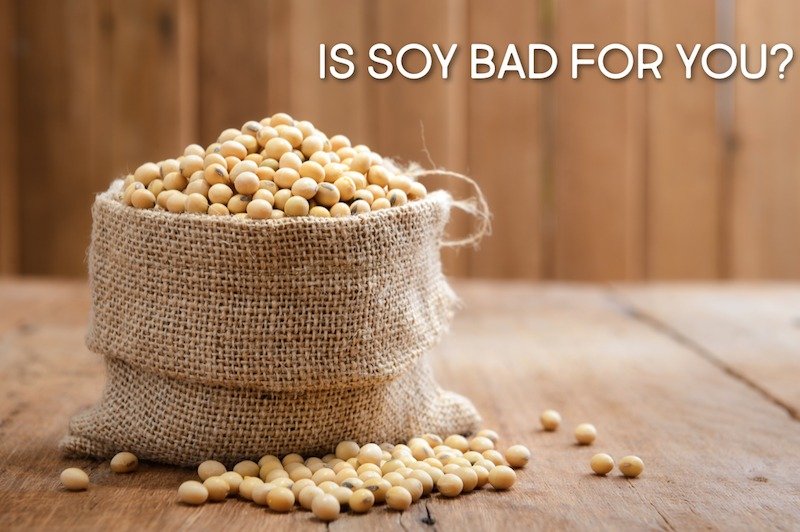 In recent years, soy has been championed as a healthy alternative to dairy products like milk. Most people aren't aware, however, that soy has been in many of our food products for a much longer time. In fact, it's difficult to find a pre-packaged food that doesn't contain soy. But the veil is starting to be lifted on soy and it's potential dangers (like soy-based formula causing seizures in infants), and the question begs to be asked: is soy bad for you? What about healthy parts of the world like Japan that consumes larger amounts of soy? Like the iodine/thyroid question, it all depends on what kind of soy we're consuming and how our bodies react to it.
What is Soy?
Soy is legume that has become a popular crop in the U.S. Because legumes are controversial in regards to their nutritional value as it is, this should be raising some red flags already.
We may be jumping the gun here, but we need to go ahead and tell you that the way soy is often grown and harvested is detrimental to the earth. Nearly all soybeans are genetically modified and sprayed continuously with harmful pesticides that have been linked to a myriad of health issues. Soy beans actually have a gene that allows them to be sprayed directly with pesticides without dying. This is happy news for soy bean farmers, and bad for the rest of us. Because the soybeans are able to withstand such harsh treatment, the gene can actually mutate in the bodies of those species which consume them (animals and humans). This intense spraying of pesticides is also a one-two punch, leaving soil depleted and stripped of its nutrients.
Is Soy Bad for You?
This leads us to the (somewhat disappointing) answer to the question "Is soy bad for you?" In short, yes, soy is bad for you. In addition to the dangerous way it is grown and harvested, soy contains phytic acid, which prevents the body from properly absorbing nutrients and minerals necessary for proper functioning.
Soybeans also contain phytoestrogens, which mimic the estrogen produced in the human body. For men, this can lead to infertility, low sperm count, and increased risk of cancer. For women, consuming large amounts of soy is almost worse than being on the birth control pill. It can lead to infertility, menstrual issues, and even cancer.
Soy contains compounds that block enzymes and can disrupt thyroid function. Because it decreases the body's ability to absorb and process so many essentials, the consumption of soy also leads to an increased need of Vitamin B-12, Vitamin D, magnesium, and calcium, which are already difficult enough to consume adequately in our modern diets.
But I've Heard Soy is Healthy!
So if all these scientific facts answer the question on soy, why is it so popular in modern health circles?
Soy gained popularity in the U.S. because soy is consumed frequently in Okinawa, Japan – one of the "blue zones" that is considered to be one of the healthiest cultures on earth. So if they eat soy and live well into their hundreds, shouldn't we all be devouring soy, too?
Not so much. The soy they consume is a completely different kind of soy that is grown, used, marketed, and sold here. Not only is their soy grown without being genetically modified and without the use of pesticides, but they also consume much less soy than we do. Whereas soy is weaved into virtually all of our processed foods, the Japanese use soy as a small side (like in real, actual soy sauce).
What Kind of Soy is Healthy?
Is there any time or circumstance in which soy can be healthy for you? If you must consume soy, it is least harmful in a fermented state. It also needs to be an organic soy (which means it's not GMO). But again, even calling organic, fermented soy "healthy" is a stretch.
The Bottom Line
Is soy bad for you? Yes. Can there be some instances where soy isn't as bad for you? Yes. But when in doubt, and on the whole, avoiding soy is what will best benefit your health for the long run.
What are your thoughts on soy? Let us know in the comments below!