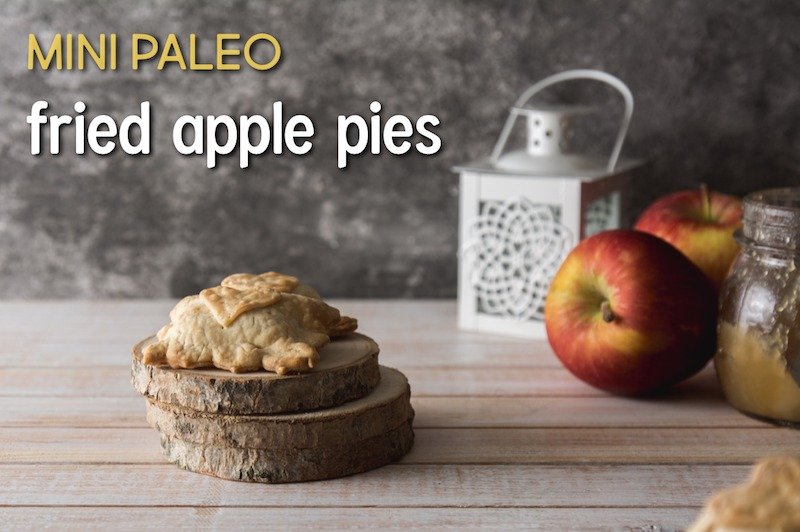 Are you a sweet or salty person? My husband is a salty person, and I'm a sweet person, so we often don't have desserts at home unless it's homemade coffee ice cream. But my extended family? They're big sweet people; in particular, they love their pies. I come from a long lineage of pie goddesses, so to speak, and my great-great-grandmothers chocolate pie lives on in infamy today. So when we are assigned the task of bringing extra pies to family gatherings, I know I have big shoes to fill. I also know that I want to create a dessert pie that my own, real food-eating family can enjoy. Thankfully, I've found countless of varieties of healthier pies like key lime, strawberry, chocolate coconut cream, and now these adorable mini paleo fried apple pies!
Mini Paleo Fried Apple Pies Recipe
These mini paleo fried apple pies are a perfect dessert for guests or for special occasions. Roll up your sleeves!
Ingredients
For the Filling
For the Crust
Instructions
Place a large skillet over high heat and add all the filling ingredients.
Bring to a simmer a cook for 10-15 minutes, stirring occasionally. Cook until the apples are soft and most of the liquid has evaporated, leaving a caramel-like consistency.
While the apples are softening, combine all the crust ingredients in a large mixing bowl. Mix them thoroughly (by hand works best for this). The mixture shouldn't be too wet too handle, but not too dry that it crumbles apart.
In another large skillet, heat about 1/4 cup coconut oil or avocado oil.
Pinch off 2 Tbsp of dough and roll it into a ball. Press it down until it's a disc about 1/8″ thick. You can also roll it out if you prefer a square shape. Spoon about a tsp of filling into the center of the disc. Don't overfill. Then, make another disc and place it on top of the first disc with the apple filling. Pinch the edges together, or use a ravioli stamp to press the edges together. Repeat with the remaining dough.
Once the oil is heated, place a few of the pies into the skillet.
Once the sides are browned, gently flip the pies and brown the other side. In order brown the sides, use a spatula to gently lift the pies and submerge the sides into the oil, rotating as necessary.
Once cooked, remove the pies from the skillet and allow to drain and cool on a paper towel.
Garnish with a pinch of cinnamon and a rich of sea salt and serve your mini paleo apples pies with a side of homemade ice cream!
Notes
After you mix the crust ingredients together, if you find the mixture too dry, add one teaspoon of coconut milk or almond milk until the proper consistency is achieved. If the mixture is too wet, do the same with cassava flour.
To reheat the pies, heat oven to 350 and warm pies for about 10 minutes.
What's your favorite kind of pie? Ever made a paleo version?