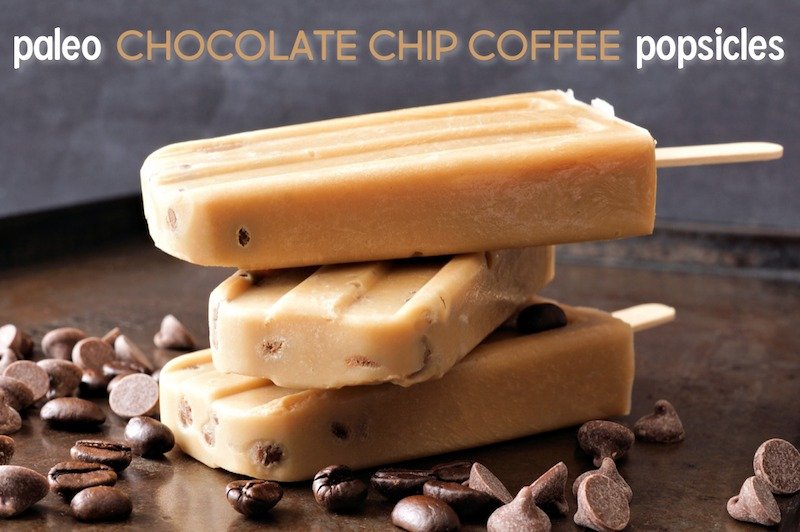 One of our favorite family summer activities is making our own ice cream and popsicles. As a family, we'll spend hot afternoons making and enjoying healthy versions of mint chocolate chip ice cream, coconut mango popsicles, cookie dough ice cream sandwiches, and chocolate avocado popsicles. But when my husband and I are looking for a popsicle that feels a little more mature (and let's face it – one that we can't give our kids) we make these paleo chocolate chip coffee popsicles. My, oh my, how all the good things collide in this dessert! It feels like such a treat, but without the intense sugar rush or the upset bellies from too much dairy or processed ingredients.
Coffee and Chocolate – A Match Made in Flavor Heaven
In these chocolate chip coffee popsicles, sweet chocolate and smooth coffee blend together beautifully. What is it about chocolate and coffee that make this pairing so wonderfully delightful? The bitterness of the coffee balances the sweetness of the chocolate; and in these paleo chocolate chip coffee popsicles, coconut cream adds both a sweetness and a creaminess to the iced treat.
Every year for his birthday, my husband asks for gluten free vanilla cupcakes with paleo coffee chocolate frosting. It's absolutely delicious. These popsicles make this flavor combination accessible year-round!
Chocolate Chip Coffee Popsicles Recipe (Paleo)
The benefits of chocolate and the benefits of coffee combine in this deliciously healthy, cool summer treat! This recipe makes 6 popsicles.
Ingredients
3/4 cup coconut cream
7 Tbsp unsweetened coffee, cooled (I usually just save some from our strong morning brew)
3 Tbsp maple syrup
1 tsp vanilla extract
1 large pinch sea salt
1/4 cup chocolate chips (paleo)
Instructions
Blend the coconut cream, coffee, maple syrup, vanilla, and salt until completely incorporated.
Pour the mixture into a large bowl, add the chocolate chips, and stir to combine.
Cover and refrigerate the mixture until it begins to thicken, stirring occasionally. This step prevents the chocolate chips from sinking to the bottom of the molds.
Spoon the thickened mixture into the popsicle molds (I use these) – be sure to heed the "fill line" boundary.
Tap the molds gently on the counter several times to help mixture settle and to let any air bubbles escape. Then, insert the popsicle sticks.
Place molds in freezer and let sit until completely frozen, usually about 4 hours. To remove the popsicles from the mold, submerge the bottom of the molds into warm water, and the popsicles will slide out easily.
Enjoy now, or wrap individually in plastic wrap to store in the freezer!
What's your favorite paleo summertime treat? Let us know in the comments!