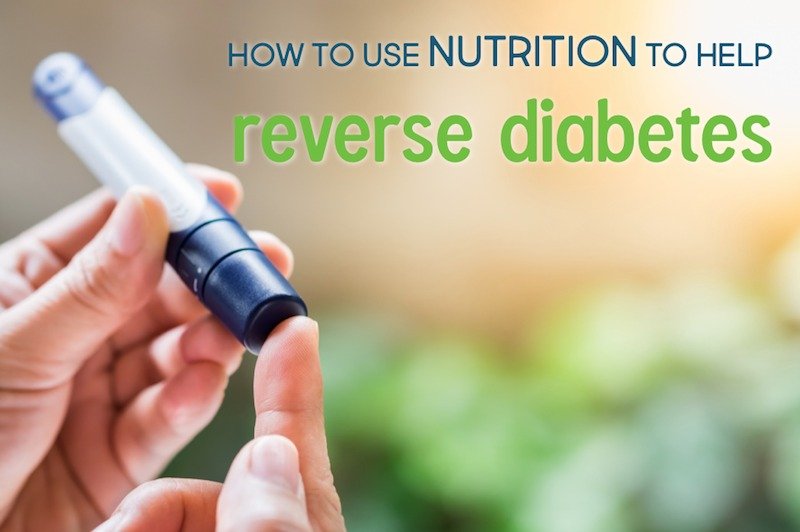 Type 2 Diabetes is a condition caused by insulin resistance. Many people believe that diabetes is irreversible and that insulin injections are the only options. But much like lyme disease and autoimmune disease, there are natural steps that can be taken to either significantly lessen the impact of or completely reverse diabetes. The first area to consider is your diet. Nutrition plays a big role in the regulation of blood sugar and more. In order to begin to reverse diabetes, there are certain foods that need to be eliminated from the diet, and nutrient-rich foods that should be added.
What Causes Type 2 Diabetes?
Millions of people have been diagnosed with Type 2 diabetes, a disease that is completely preventable and even reversible. Type 2 diabetes results when the body no longer responds properly to the insulin that is produced after eating sugar, fats, or carbohydrates. This is often referred to as "insulin resistance."
Why is insulin such a big deal? From WebMD:
To understand why insulin is important, it helps to know more about how the body uses food for energy. Your body is made up of millions of cells. To make energy, these cells need food in a very simple form. When you eat or drink, much of the food is broken down into a simple sugar called "glucose." Then, glucose is transported through the bloodstream to these cells where it can be used to provide the energy the body needs for daily activities.
When the insulin receptor sites burn out, it can cause strain and damage on weight, sleep, energy, and more.
Type 2 diabetes is often caused by health or lifestyle factors such as:
poor diet
inflammation
toxicity
high blood pressure
hormonal issues
obesity
Signs and Symptoms of Diabetes
While the individual signs or symptoms of diabetes could point to a myriad of underlying problems, when experienced in tandem, they can point to this particular disease:
frequent urination
increased thirst
hunger
weakness
weight loss
blurred vision
nausea
slow healing of bruises, scrapes, or cuts
tingling sensation in the hands

How to Use Nutrition to Help Reverse Diabetes Naturally
The most effective way to prevent or reduce diabetes is through a nutrient-rich diet free from artificial ingredients or processed foods.
Foods to Avoid
This is the most important way to prevent or reverse diabetes. Since certain foods influence blood sugar and can cause inflammation, it's important to avoid them.
Sugars – Refined sugar is a non-food everyone should avoid, but particularly those with diabetes. Processed sugar spikes blood sugar levels and over time, with frequent consumption, can wear down the insulin receptors making it more difficult for the body to stabilize blood sugar. Even natural sugars like raw honey and maple syrup can have this effect on the blood sugar and should not be overly-consumed.
GMO foods – A good rule of thumb for any diet is to try to stay away from the center aisles of the grocery store. Many packed foods are made with genetically modified ingredients. This can be particularly detrimental when it comes to Type 2 diabetes, as these foods take a toll on the liver and kidneys.
Grains – When gluten is consumed, it quickly becomes a sugar during digestion. This can cause massive spikes in blood sugar, especially when the gluten is highly processed and consumed regularly. Additionally, gluten is known to cause inflammation in the gut, which can further aggravate diabetes.
Hydrogenated oils – Oils like vegetable oil, soybean oil, and canola oil shouldn't be a part of anyone's diet because of the way they are processed and manufactured. This type of oil can be particularly detrimental when trying to prevent or reverse diabetes.
Foods to Eat
On the flip side, there are certain good, real foods that can help reverse diabetes when they are a regular part of one's diet.
Healthy fats – Healthy fats like coconut oil, grass-fed butter, avocados, and red palm oil both fuel your body and balance your blood sugar.
Magnesium-rich foods – Magnesium is a vital mineral to several body processes, and lack of sufficient magnesium has been linked to the onset of diabetes. Consuming foods rich in magnesium like spinach and other dark leafy greens, pumpkin seeds, black beans, and almonds can help reduce the risk of diabetes.
Protein – Quality-sourced protein can make a big difference when trying to prevent or reduce diabetes. Protein has a limited affect on blood sugar and can actually help the body metabolize sugar.
Share this post on social media to help other prevent and reverse diabetes!