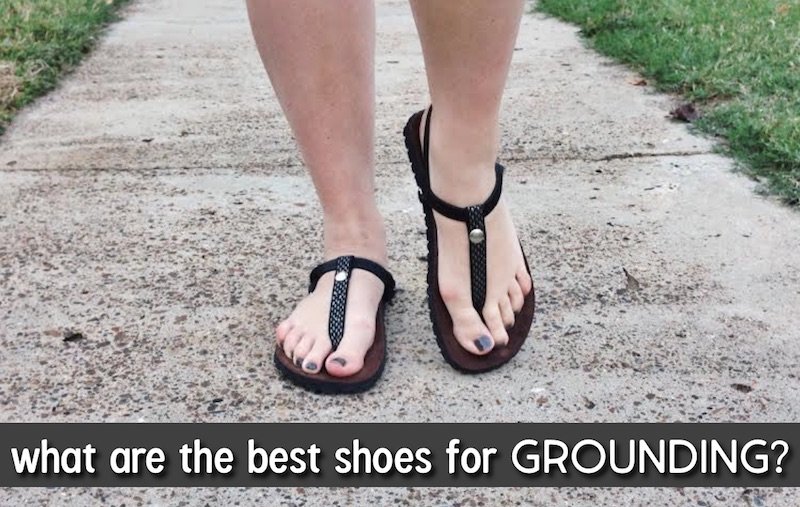 I grew up in a small southern town with lots of cousins around. My grandparents lived on a tiny farm, and my extended family would spend Sunday afternoons at their house. The men would watch football games and play cards, and the women would fix a big supper of meatloaf and potatoes while chatting about the latest goings-on. And us kids? We would be running around outside, swinging from tree branches, chasing the dogs, and picking wildflowers. Those are some of my fondest memories from childhood. When I reflect on those spirited afternoons, I can't help but remember that, as kids, we always spent our time outside barefoot. Our parents never had a problem with it, and we loved playing in the grass in our bare feet. There was something about the way the warm blades of grass and the cool dirt felt on our feet as we ran that was so freeing.
Looking back, I have a new appreciation for this small detail of our play. I think, as humans, we have a natural desire, a pull, to be barefoot outside. There's something in us that craves to be in contact with the ground. As with most things in life, we tend to be more in tune with the messages our bodies send us as children. So while we thought it was just fun to play outside barefoot, I believe our natural instincts are what compelled us to do so.
Why Be Barefoot?
Being barefoot outside, also known as "grounding" is extremely beneficial to our bodies. As MindBodyGreen puts it:
Our bodies are made up of about 60 percent water, which is great for conducting electricity. The earth has a negative ionic charge. Going barefoot grounds our bodies to that charge. Negative Ions have been proven to detoxify, calm, reduce inflammation, synchronise your internal clocks, hormonal cycles and physiological rhythms.
So being in contact with the earth promotes basic body functions and boosts our health. This is probably why our ancestors were barefoot most of the time. They knew the value of being in contact with the earth.
Unfortunately, living in a society that trumpets "No shoes, no shirt, no service", walking around barefoot isn't socially acceptable or practical (watch out for the glass!). Most mainstream shoes block the incoming flow of vital bio input present on the earth, and thus impacts our health and even how well our body is able to tell time! Our footwear blocks our contact with the earth, and we're losing valuable function because of it.
What Can We Do?
In an ideal world, we would wake up each morning and immediately go outside. There, we would stand barefoot in the grass, wiggling our toes into the earth, turn our face to the sun for some Vitamin D, and practice peaceful meditation before our day begins. Doesn't that sound nice? But if you're anything like me, then most of your mornings begin with babies crying, children threatening to riot if breakfast isn't served soon, and last week's laundry staring at you, waiting to be folded.
It isn't always practical or possible to frequently be barefoot outside (although if you're playing with your kids outside – kick off your shoes, too!). Lucky for us, there is an amazing alternative that gives us both shoes and grounding.
Earth Runners
Earth Runners is the answer to our conundrum. Combining minimalist design, grounding properties, and style (a must-have for me – I'm not about wearing ugly shoes 😉 ), Earth Runners provides a barefoot technology that offers energy flow between the foot and earth. The copper inserts and conductive laces ground you electrically by allowing electron transfer from the earth and directly to your body. The bonus? You would never know by looking at them. They are a very attractive shoe that can be worn with all sorts of attire. Trust me, I've been wearing them everywhere and with everything!
But let's talk more about the benefits of Earth Runners. These sandals are custom molded to each individual. You trace your foot to get a perfect fit and your sandal is handmade just for you! These sandals don't have a defined heel, cushion, or an arch, enabling you to have a truly primal experience of walking/hiking/running without risking injury to your feet. So it's a win-win: achieve the grounding feeling while protecting your tootsies.
What sets Earth Runners apart is their original design that allows you to absorb the ever-present yet subtle electrical energies of the earth, giving you a fuller experience of grounding.
The icing on the cake is Earth Runners' philanthropy. They are mission-oriented, and for every ten pairs of sandals they sell, they donate a pair to a non-profit who strives to provide protective footwear for children in India.
All that being said …
I've been able to tell a huge difference in the way my entire body feels and the state of my alignment while wearing sandals from Earth Runners. After wearing the sandals everywhere for a couple of days, I put on a pair of sneakers and, a few hours later, not only were my feet hurting but my entire body was aching! The minimalist design of these shoes enables me to support the proper functioning of my body. That is something super valuable to me as I chase my kiddo around all day!
Do you like to be barefoot outside? Have you tried to incorporate grounding into your daily routine? Ever tried minimalist shoes? Let us know what you think!