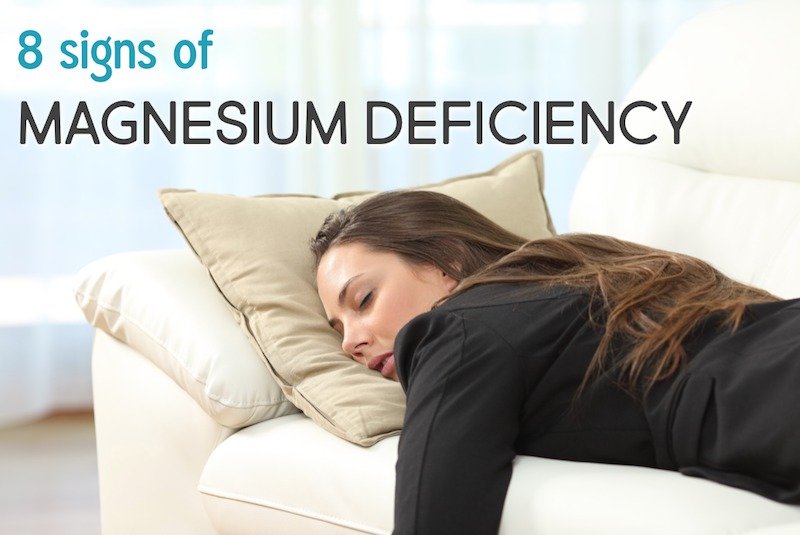 You've heard about our love for magnesium before, and how we think it's a huge part of our overall health. That's why we use things like magnesium oil and magnesium body butter and eat magnesium rich foods to make sure we're getting enough intake. Magnesium supports hundreds of biological reactions that influence blood pressure, our immune system, and metabolism, which is why we're so crazy about it. Worried you might be short? Check out these 8 signs of magnesium deficiency.
Why is Magnesium Important?
Magnesium is one of the most important minerals for proper body function. It is responsible for over 300 biochemical reactions in the body. Magnesium influences blood pressure, the immune system, and more.
You're Probably Deficient in Magnesium
Chances are, you're deficient in magnesium. Most of today's population is. This is for a few reasons.
First, our depleted soil means that the grass, and animals who eat that grass, are deficient in magnesium. So the food we consume is not providing the same amount of nutrients it once did.
Additionally, the amounts of fluoride and chlorine in our modern water supply cause magnesium to be less available in the water we drink because these chemicals bind to magnesium and are filtered out.
On top of that, since most modern diets consist of processed foods high in bad fat, sugar, and caffeine, we are consuming less and less magnesium-rich foods (see a list below).
8 Signs of Magnesium Deficiency
The following are signs of magnesium deficiency, and can be a signal that you need to increase your intake:
1. Sleep and Energy Problems
Magnesium is a powerful relaxation mineral and aids in getting a good night's sleep. Many people who struggle with insomnia are often deficient in magnesium.
On the flip side, magnesium is responsible for your energy on the cellular level. Without enough magnesium, you literally won't have enough energy in your cells.
2. Depression and Anxiety
It might be difficult to believe, but magnesium levels can have a major influence on mental health. Psychology Today explains:
Magnesium hangs out in the synapse between two neurons along with calcium and glutamate. If you recall, calcium and glutamate are excitatory, and in excess, toxic. They activate the NMDA receptor. Magnesium can sit on the NMDA receptor without activating it, like a guard at the gate. Therefore, if we are deficient in magnesium, there's no guard. Calcium and glutamate can activate the receptor like there is no tomorrow. In the long term, this damages the neurons, eventually leading to cell death. In the brain, that is not an easy situation to reverse or remedy.
3. Muscle Cramps and Spasms
This may be one of your most noticeable signs of magnesium deficiency, as it's one of the most outwardly irritating. As mentioned above, magnesium is responsible for relaxing the mind and the muscles. Without adequate magnesium levels, our muscles are more likely to cramp up or spasm.
4. Bone Health
We all know calcium is important for strong bones, but as it turns out, calcium cannot be properly absorbed by the body without adequate magnesium levels. Without magnesium, calcium is not nearly as effective and won't strengthen the bones.
5. Pregnancy Discomforts
Using transdermal magnesium during pregnancy can alleviate many pregnancy discomforts experienced by moms-to-be. Magnesium has been shown to help decrease morning sickness, relieve pregnancy headaches, decrease cramp and heartburn occurrences, and aid digestion, even postpartum.
6. High Blood Pressure
Because of magnesium's ability to relax muscles, it is vital in keeping the arteries open and pliable. Getting enough magnesium can prevent clotting, heart attack, and heart failure.
7. Hormonal Issues
There might be a scientific reason women crave chocolate during certain parts of their menstrual cycle. Magnesium levels in women dip when estrogen and progesterone levels increase. Chocolate is fairly rich in magnesium, so our cravings may have to do with more than just an excuse to indulge.
8. Other Mineral Deficiencies
Finally, vitamins and minerals work together in the body and need one another for optimal function. Magnesium is high on this list. Without magnesium, most vitamins and minerals won't be used to maximum capacity.
The Solution to Magnesium Deficiency
Luckily, even if you are experiencing signs of magnesium deficiency, there is a solution. The body is able to absorb magnesium two ways: transdermally and internally.
Topical Magnesium
This is the most effective way to supplement magnesium, as magnesium absorbed through the skin allows the body to gain adequate magnesium levels without getting too much to cause discomfort. I usually make my own magnesium oil; but this pre-made magnesium oil is also wonderful and I use it when I run low on my homemade oil.
Magnesium-Rich Foods
Consuming magnesium-rich foods like the ones listed below (from good soil) also helps the body achieve adequate magnesium levels.
Have you ever tried magnesium to ease any of these issues?