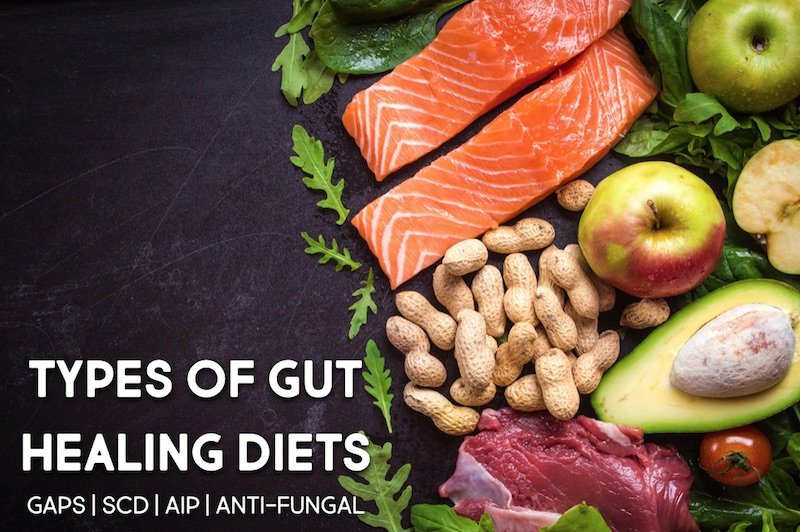 There's been a shift in mainstream health circles and experts are beginning to address the connection between our gut health and the health of our entire person. Various types of gut healing diets are rapidly emerging. People are starting to see how the food they have eaten throughout their lives truly affects every part of them years down the road. Once they discover the root cause of their IBS, eczema, chronic fatigue, poor behavior, or thyroid problem, these people are turning to food to help them heal. But with all the types of gut healing diets out there, how should you decide which is best for you?
What is Leaky Gut?
When discussing gut healing, a common term that is used to describe the root cause of the symptoms mentioned above is "leaky gut." But what exactly do we mean by that?
The term Leaky Gut Syndrome is used to describe the condition of "Hyperpermeable Intestines," a fancy medical term that means the intestinal lining has became more porous, with more holes developing that are larger in size and the screening out process is no longer functioning properly. The fallout results in larger, undigested food molecules and other "bad stuff" (yeast, toxins, and all other forms of waste) that your body normally doesn't allow through, to flow freely into your bloodstream…

The intestinal lining is the first mechanism of defense for our immune system. The outer layers of intestinal cells (epithelial) are connected by structures called tight junctions. At the tips of these cells are the microvilli, which absorb properly digested nutrients and transport them through the epithelial cell and into the bloodstream. During the normal digestion process the tight junctions stay closed forcing all molecules to effectively be screened and only pass into the blood stream through the mucosa cells (think of them like bouncers at the front of a classy bar). For reasons we will discuss later, these tight junctions can become "open" or permeable allowing un-screened molecules to flow directly into the bloodstream (think of it like a fish net with very small holes). (source)
When we look at it through this lens, it's easy to understand why leaky gut can wreak havoc on our bodily systems in vast and varied ways. That's why symptoms of leaky gut can be so confusing and frustrating, as you can experience symptoms crossing bodily system borders.
What Causes Leaky Gut?
Just as there are a variety of symptoms of leaky gut, it has several possible causes. In fact, through my research, I've come to think that leaky gut is primarily caused by a combination of factors such as:
Poor diet of refined and processed foods like sugar and vegetable oils
Overuse of antibiotics
Chronic and unmanaged stress
Chronic illness (and the inflammation that results)
How Do I Know if I Have Leaky Gut?
The manifestations of leaky gut can vary from person to person. Some people experience intense symptoms for a long period of time while others have no symptoms. I have found this quiz to be helpful in examining my personal symptoms or concerns.
Different Types of Gut Healing Diets
Once you know if you're experiencing leaky gut and how severe it is, it's time to move forward with healing. The first area that many people address (and rightly so) is diet. Since our food is digested in the gut and has great influence over it, it's wise to start there. Many gut healing diets claim to be the best, but I've found it most important to determine which diet is best for you.
We have used all of these types of gut healing diets at some point with great results. My son healed beautifully with the GAPS diet, while I personally saw the best results with the AIP approach. See? Everyone is different, and the best type of gut healing diet is the one that will work best for you.
Before we look at the differences between these types of gut healing diets, let's examine their similarities.
How They are Similar
Elimination of processed foods – Foods like grains, refined sugar, and vegetables oils are out. Anything that is made in a plant is a no-go in all these diets.
Elimination of trigger foods – While these diets vary slightly in what trigger foods are and which foods are allowed, all are in agreement that foods that can cause inflammation should be avoided.
Addition of gut healing foods – Foods that promote gut healing like bone broth are encouraged in all the diets.
GAPS
The Gut and Psychology Syndrome diet has increased in popularity over the years thanks to its effectiveness. This is a more intense dietary experience, but if your gut needs healing (especially from food allergies or mental disparities), it is worth it. I recommend this book to learn more and get started. This approach involves dieting (not in the mainstream sense), detoxing, and supplementing. It has many stages, and the first phase is the most intense. Once you make it through the first phase, the rest will feel much simpler. From Katie:
It is often done for 1-2 years and can significantly help allergies and mental conditions in some people. It is based on some of the same principles as the SCD diet but really emphasizes specific nourishing foods like bone broth and homemade fermented vegetables. The GAPS diet is a 6-part intensive protocol and it is a lot of work, but in our experience, the results are well worth it.
SCD
This diet is geared more specifically toward reducing the symptoms of digestive issues like Crohn's Disease and Ulcerative Colitis. So what's involved? From SCD Lifestyle:
The diet's guidelines are based on the fact that not everyone's digestive tract has evolved to optimally digest complex carbohydrates and other man-made food products like sugar. The main principle of the diet is that carbohydrates are classified by their chemical structure; they are monosaccharide, disaccharide, or polysaccharide. On the diet, only monosaccharide carbohydrates are allowed to be eaten as all others require extra digestion steps to break the chemical bonds down to monosaccharide carbohydrates.

Any food that is not properly digested causes bacterial and yeast overgrowth when undigested carbohydrates are fed on by bacteria and yeast in the intestinal tract. This starts a chain reaction of excess toxins and acids which cause irritation of the small intestine cells damaging them and causing food absorption issues which only helps to continue the cycle.

The diet is an all natural way to break this cycle of bacteria and yeast overgrowth by eliminating the food sources they feed on. By working to restore gut flora to normal levels, the intestinal tract is allowed to start repairing any damage by itself.
The specifics of the diet include avoiding the aforementioned triggers, along with dairy, legumes, some spices, canned fruit and vegetables, potatoes, and some gran free flours.
AIP
This diet combines the guidelines from the two previous gut healing diets. And it's the one I've personally had the most success with over the years. It's especially beneficial when addressing and healing chronic illness, inflammation, and autoimmune disease.
While this gut healing diet involves restriction form inflammatory foods, it focuses mostly on gut healing foods like bone broth, quality protein, lots of vegetables, healthy fats, and fermented foods. You can check out an entire list of the protocol here. When it comes to types of gut healing diets, I can't recommend this one enough.
Anti-Fungal
Founded by Doug Kauffman, this diet focuses on riding the body of "fungal foods." These foods can disrupt the balance of good bacteria in the good and bad bacteria and additional fungus. This diet is approached in three phases:
Kaufmann theorizes that a link exists between the epidemic of modern diseases, such as obesity and Type 2 diabetes, and a diet high in refined carbohydrates and processed foods. He postulates that a diet high in sugary foods promotes the growth of harmful bacteria and fungus. The solution, according to Kaufmann's theory, is to adopt a diet low in added sugar and processed foods, which won't promote fungal and bacterial overgrowth. The anti-fungal diet encompasses three phases, the first phase being the strictest. During the second phase, you reintroduce certain foods such as starchy vegetables and all fruit. During the lifetime, or third phase, you stick to a diet low in sugar. (source)
The first phase is the most intense, although it allows for a few very specific dairy items. Many people find relief from symptoms after the first phase of the diet and are able to successfully continue eating a real food diet longterm.
Have you tried one of these types of gut healing diets? What worked for you?