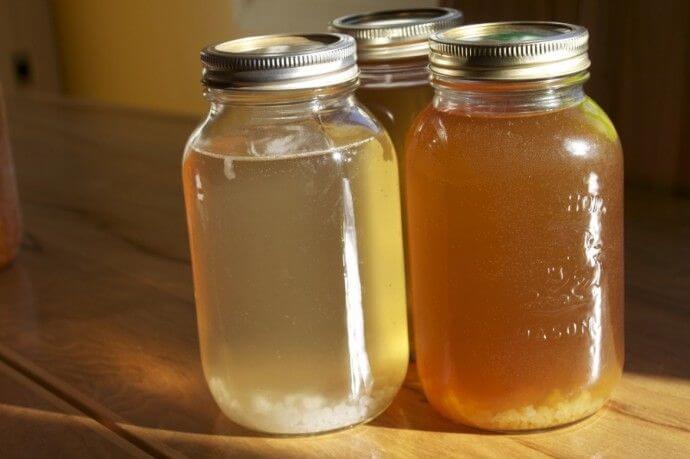 Water kefir is a fermented drink that transforms a mixture of sugar, water, and fruit into a tasty drink that is full of probiotics. Water kefir can treat a wide range of health issues like acne, constipation, and high blood pressure. This water kefir recipe is great for those trying to kick the soda habit because of its "fizzy nature". Afraid to try it? Don't be. Try Adrienne's water kefir recipe and see how delicious it is, and how great it makes you feel!
"Many people have heard of (dairy) kefir – a fermented milk drink with the consistency of runny yogurt- but not as many have heard of water kefir.
So what is water kefir anyhow? Most simply stated, water kefir is a fermented drink that is made by combining sugar, water and fruit with special 'grains'. The so-called grains are actually small clusters of hard-working yeasts and bacteria that 'eat' the sugar and bio-transform your brew into a healthy, effervescent *elixir* chock full of probiotics…a truly magical alchemy…
Water kefir vs soda
If you have, or want to, kick a soda habit, water kefir is a fantastic choice. It is so much more than a soda 'substitute'- water kefir *builds* health by repopulating the gut with beneficial microorganisms!
Water kefir is teaming with the healthy bacteria you need for proper gut function. This is important because 80 per cent of our immunity is rooted in our gut. Healthy gut = healthy you.
By rebuilding your gut flora, kefir can help you actually absorb and assimilate the important vitamins and minerals in all of that healthy food you are eating. That's why our health mantra has shifted from, "You are what you eat." to "You are what you 'absorb."
Kefir water can be used to treat an incredibly wide range of health issues including:
acne
allergies
indigestion
constipation, leaky gut syndrome, IBS and more
liver, kidney issues
high blood pressure
anemia"