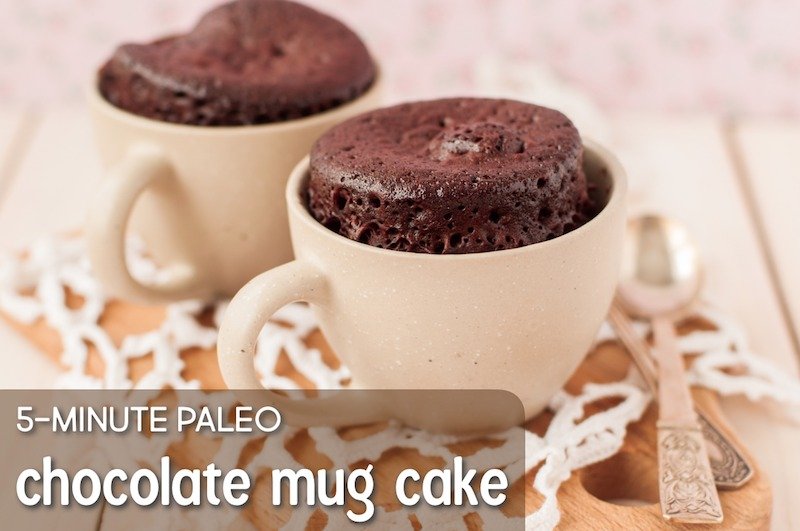 When hankering for a little treat at the end of a long day, don't reach for a sugar-laden candy bar or the gluten-heavy sweet bread from your local bakery. You can satisfy your sweet tooth without sacrificing the way you feel and treat your body. Perfectly portioned chocolate cake in a cup made in five minutes? Yes, please. This healthy and delicious paleo chocolate mug cake is made with nourishing ingredients like coconut oil, honey, almond milk, almond flour, cocoa powder, and flaxseed. Ready in about five minutes, this desert is convenient and is the perfect proportion. Grab a spoon, let's dive in!
What is a Mug Cake?
A mug cake is just what it sounds like: an individual cake made in a coffee mug. It may seem like a wild concept, but it's one of the easiest and least-wasteful ways to enjoy a healthy dessert.
Eating a real food lifestyle leaves many of us not craving sugar or sweets as much as we used to. But everyone has those days (or nights) when something warm and chocolatey sounds like a little piece of heaven. But if you're just going to be enjoying a dessert on your own, making a large quantity of cookies or brownies may seem 1) daunting, and 2) wasteful, since you're just one person and you don't need all the extras.
Enter the mug cake. Made in a perfectly individual serving, it hits the sweet spot without leaving you feeling stuffed or sick. It uses real food, nourishing ingredients, so you can feel good about your "indulgence".
Paleo Chocolate Mug Cake Recipe
This recipe makes 1 chocolate mug cake. But you can double the recipe to share with a friend. Or, you know, have two for yourself 😉
Ingredients
Instructions
Put the coconut oil in a microwave-safe mug (choose one that's about 12 oz) and microwave for about 10 seconds, or until the coconut oil is melted. Swirl the coconut oil around the mug to coat the entire inside.
In a medium bowl, whisk the egg. Add the honey, almond milk, and vanilla extract. Whisk together.
Stir in the almond meal, cocoa powder, flaxseed meal, baking soda, and salt.
Pour off any excess coconut oil from the mug into the batter and stir to combine.
Pour batter into mug and microwave for about 2 minutes. You can start at 1 minute and add 10 second intervals until it is done.
Let the cake cool slightly (but not too much – it's best when it's warm!) and serve.
Notes
Top this paleo chocolate mug cake with sliced strawberries, sliced bananas, toasted walnuts or almond slices, or even a paleo vanilla ice cream for additional yum-factor!
More Easy Paleo Desserts
If you like the idea of having quick and delicious paleo desserts on hand for when your sweet tooth strikes, bookmark these other super simple and super fast paleo desserts recipes!
Can't wait for you to try this! Share with a chocolate-loving friend!