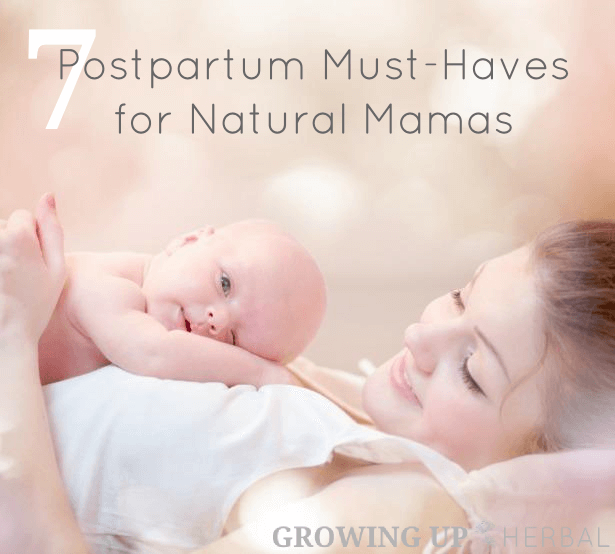 The postpartum time after delivery (also known as "the fourth trimester") can prove to be a difficult one as a new mama adjusts to life with a newborn all the while healing from the birthing process. But being prepared for this time and having some foundation items can really make this time much easier and much more enjoyable. This list of seven postpartum must haves from Meagan hits the nail on the head. If you or a woman you know is expecting, this is great advice to heed!
"As a seasoned postpartum mama, I have a few things that are "must-haves" on my list after baby comes. Today I wanna share those things with you in case you are a soon-to-be postpartum mama or you know of someone who will be soon.
1. Herbal Teas
When it comes to drinking healthy drinks… you're kinda limited. At our house, we typically drink water and raw milk, but I'm trying to get into the habit of keeping herbal teas around for us to enjoy throughout the day. After delivery, the following 3 teas are the ones you'll find in this mamas fridge. Of course the whole family can benefit from the first tea, but the other 2 are for mama only!
Mama's Red Raspberry Brew – A Bulk Herb Store blend that uses red raspberry leaf, alfalfa, nettle, and peppermint to nourish the female reproductive system. This blend is a must-have before and after birth.
Mama's Milk Tea –  Another Bulk Herb Store tea blend that helps support healthy breastfeeding. Not only does it help to add nourishment to your milk, but it helps increase milk production if that's needed.
Feminine Balance Tea – A 90210 Organics blend that supports hormone regulation… something that is very needed after birth!
2. Herbal Sitz Bath Mix
I love herbal sitz baths! After birth, every mama could use the healing power of herbs found in sitz bath blends to help soothe the tissues, calm inflammation, promote healing, and decrease the chance of infection… you know where. You can use these blends as a normal sitz bath or if you're like me, you can use them in your whole bath. I love to use these blends as a bath tea and just take some time away, all to myself, to soak in warm water and breath in the smell of the herbs."