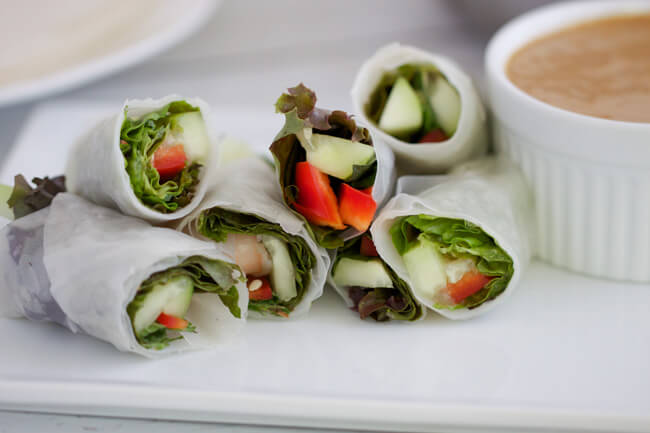 If you are looking for a simple way to mix up your weeknight meals and add a bit of variety, these spring rolls just might do the trick. Spring rolls are a great way to incorporate more vegetables into a meal. Not only are these gluten free spring rolls healthy, but they are also incredibly visually appealing. Made with shrimp and fresh vegetables like lettuce and cucumber, these spring rolls from the Food Renegade come together quickly and are delicious when served with paleo satay dipping sauce. Would you try your hand at these?
"I attended a food photography workshop this past weekend and we ended the 2 days of intensive learning with a spring roll party. These are perfect for a large group. They are really fun to make and kids love them too. Since everyone builds their own, different dietary lifestyles are easily accommodated. If you are the host, it's an easy way to throw a dinner party and not have to do much cooking!
 Now that I know how simple these are to make, I am almost embarrassed about how much I used to pay for them at the health food store! I had actually attempted to make these before, but I made one big mistake. I soaked the rice paper too long and I ended up with a soggy messy.
Here are the few tips I learned that made making Vietanamese Spring Rolls a cinch!
Don't wet the rice paper too much. Dip each sheet of rice paper in the water until every part of it is wet, but don't leave it in the water to soak.
Start adding ingredients to the top 1/3 (the part closest to you) of the paper. This way, you have plenty of paper left to roll.
Lay lettuce down first. This will prevent any of the crunchier fillings from tearing your paper.
Don't overfill the spring rolls.
Fold the rice paper in half. Unlike the other tips, this one is optional. You can roll the spring roll like a burrito, by folding in the right and left side and then rolling tightly. The technique I prefer, is to actually fold your rice paper in half, after you've wet it. Fill it up with your ingredients and then roll it tightly, while leaving the ends open.
Mix and match. As long as you are using your lettuce barrier, you can mix and match your veggies, herbs and proteins. Include some crunchy veggies like cucumbers, carrots and bell peppers. You can use any protein that you have on hand. Most fresh herbs are delightful."