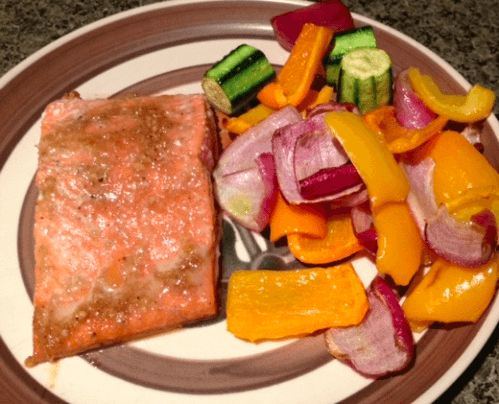 This Asian ginger salmon recipe is the perfect blend of sweet and spicy. Heavy on the garlic and ginger, it is a wonderfully flavorful way to get your intake of healthy fats and Omega 3's. Pair the salmon with hearty roasted vegetables for a filling and healthy meal!
"Asian-inspired cuisine has always been a delight to my taste buds. Unfortunately, most Asian restaurants use substandard ingredients and lots of additives, so unless I make something at home or come across a rare gem of a restaurant I hardly ever eat this kind of food.
With this in mind, I recently decided to make some ginger salmon and add as much Asian flare that I could think of.
In case you're wondering, I try to eat at least 4 fish-based meals per week. This allows me to obtain a healthy dose of Omega 3's without supplementing. If it's a good week I'll get 6-8 meals in. A lot of people question whether or not they should supplement with Fish oils. I think if you're eating wild caught fish at least 4 meals per week, then you likely don't need to supplement. Unless you're looking to get out of a flare, lose more than 20 pounds of fat, or dealing with neurodegenerative problems. This could always change but it appears to be a good guideline at this point.
Asian Ginger Salmon
The taste of this recipe has some kick. I wanted to create a sweet and spicy blend but different than your traditional American-Asian experience. It's heavy on the garlic and ginger so it punches your taste buds up front, and then relaxes into sweetness."