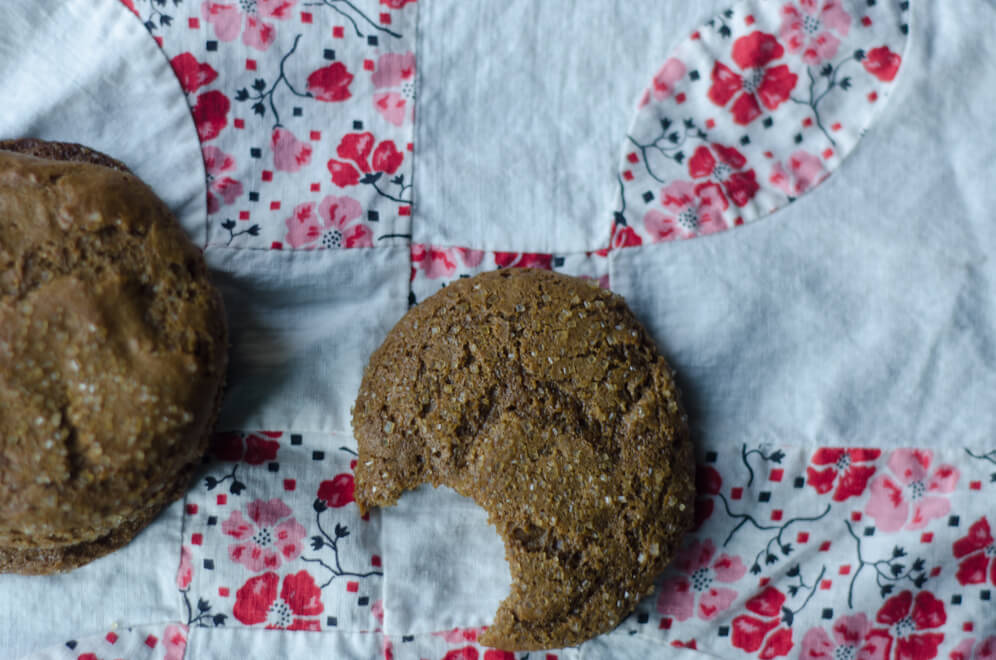 A holiday favorite, chewy molasses cookies are flavorful and comforting. But they don't have to wait for the holidays! These nourishing chewy molasses cookies will be devoured during any time of the year!
"It's this time of year, when the weather grows cold and the days grow dark early, that I spend more time in the kitchen. My son and I work hand-in-hand baking breads and cookies. The oven's heat keeps are old 1890s miner's home warm on even the coldest of days, while the aroma of sweet things perfumes the air and speaks of the holidays to come.
Recently, we made a batch of Chewy Molasses Cookies from Nourishing Cookies, – sweetened with honey and molasses, spiced with cinnamon, ginger and cloves. They sparkle in the light, and their softness makes them almost cake-like in texture. I warm milk on the stove, sprinkle it with freshly grated nutmeg and we sit down with the cookies for an afternoon treat.
Making Holiday Treats a Bit Better
Like most of you, I try my best to make our holiday treats and sweets a little bit better, a little bit more wholesome. We make sprouted spelt sugar cookies, sugar plums, turron de navidad and my favorite buche de noel. They're still treats, and still special, just a touch healthier and a touch more nourishing. We focus on good quality, natural ingredients: grass-fed butter, pasture-raised eggs, organic flours and whole, unrefined sweeteners like molasses, maple syrup, and honey. Their sweetness is balanced with nourishment not found in refined white sugars: primarily minerals and B vitamins."