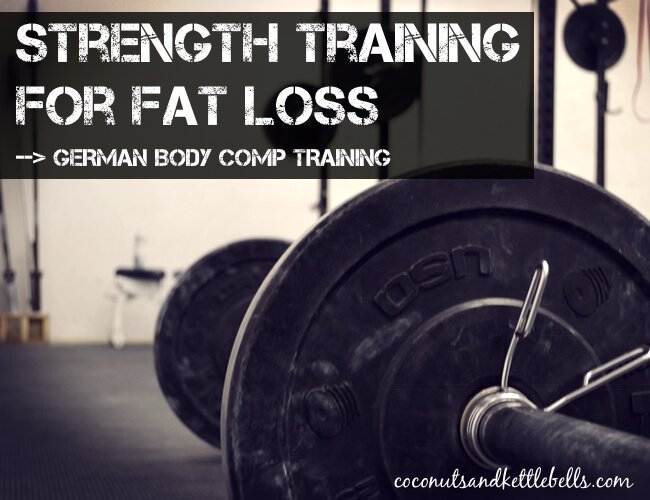 German Body Comp Training is a fitness routine that focuses less on cardio endurance and more on lifting heavy weights to create a sprint-like workout. Noelle explains the benefits of this workout and offers a sample routine for you to try!
"One of the best things I've ever done for my body is ditched longer, endurance "cardio" workouts for a life of sprinting and lifting heavy things.
In fact, most days – I don't even do "cardio." Instead, I use weights to induce an elevated heart-rate which builds cardiovascular health, muscle growth and speed all at the same time. As a result, I'm leaner, stronger, and spend less time in the gym than I ever did in my college days. Sound too good to be true? Good news…. It's not!
First of all, whether you're male or female, strength training is absolutely necessary for the health of your body. In addition to making muscles leaner and helping you burn more fat, using weights makes your bones stronger and can bring relief to debilitating conditions like back pain and arthritis. It can also help correct postural imbalances and increase overall balance – especially as you age. And of course, it helps you look really HOT naked (duuhh, what we all really care about.)
Now, chicks – I'm going to get real wi'cha for a second. If you're excuse for not lifting weights is "I don't want to get big," then you're out of touch with your body. In short, women simply do not have the hormonal profile to gain muscle mass like a man. For women, lifting heavy things buildslean muscle which burns more fat and gives strength, tone, and definition to the body. Women who have big muscles typically have worked really, really hard for years to get that way, and have received quite a bit of help from supplements.
So, armed with this info, let's get on with picking up some heavy stuff!
German Body Comp Training
While researching some new strength training protocols for myself a couple years ago, I stumbled upon something called "German Body Comp" training. I was immediately drawn to it because it included multi-joint movements and high-intensity training which are both key components of building fitness.
If you've never heard of it before, German Body Comp is a style of lifting in which you do specific exercises paired in sets (usually one upper body exercise and one lower body exercise) and perform higher repetitions (12-15) with shorter rest periods."