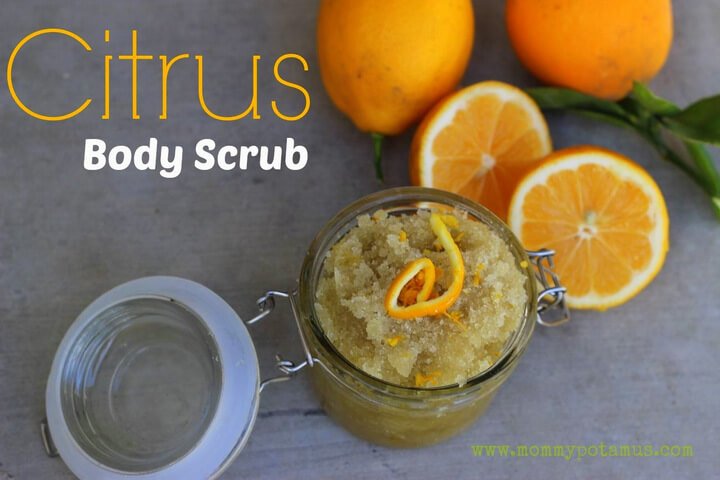 A good body scrub is a staple to have on hand. When your skin needs some exfoliation, hydration, and overall umph-increase, body scrub can do the trick. This citrus sugar body scrub is not only invigorating and refreshing, but beneficial to your health as well. Made with natural ingredients like cane sugar, essential oils, olive oil, and coconut oil, this scrub will leave your skin feeling healthy and revitalized!
"My neighbor down the street . . .
Has the most INCREDIBLE meyer lemon tree. Just walking into her backyard with the sweet citrus smell is intoxicating. As someone who loves creating my own beauty and food recipes – like this DIY diaper rash stick or these real food caramel chews – when I see a Meyer lemon tree I see enormous potential. And lucky me my sweet neighbor lets me sneak into her backyard whenever I please and grab a handful.
We are in a drought here in California, which for me means itchy, dry skin. I decided to use my latest stash of lemons to make a body scrub that would remove dry skin while hydrating at the same time. Oh. and did I mention I wanted to make sure it smelled like you stuck your face in a lemon tree??? That's where the lemon essential oil came in. I made up one container for myself but this recipe could easily be doubled or tripled and would make the perfect gift. I like to use the scrub to soften my hands, to remove dead skin from my feet and to make my legs silky smooth.
Just as a warning, be careful using this scrub on your feet in the shower because the oil in the scrub makes it very easy to slip (my husband wanted me to add this warning…no explanation needed). I loved the smell of this body scrub so much I also created a lemon body butter."