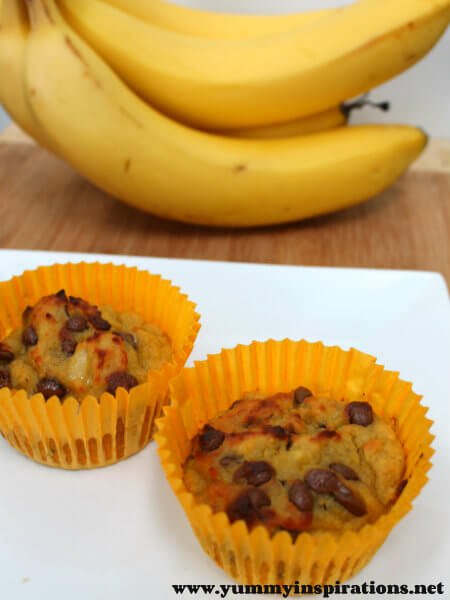 Muffins are typically easy and fun to make, and this recipe is no exception! These banana chocolate chip muffins are grain free and paleo. Made with real ingredients like coconut flour, maple syrup, bananas, and butter, not only will the whole family enjoy them, but they are good for you as well! Enjoy 🙂
"Having a few too many ripe bananas in my fruit bowl, I chatted with my 5 year old about our options and we settled on creating a Banana Chocolate Chip Muffins Recipe together. As a cooking development opportunity, I then gave him control of the ingredients included in the muffins – coconut oil or butter I asked him – he decided on butter… honey or maple syrup I asked and he replied (with a cheeky grin) – maple syrup! (which he loves)
Then the choice of flour – I suggested plain flour, almond flour or coconut flour and he went with coconut flour.
We then set about combining his chosen ingredients together with eggs and the mashed bananas until we had just the right muffin mixture, with him doing the all important mixing.
The muffins we produced were quite small and the mixture spread to just 9 of the 12 muffin cups we'd prepared – but no one complained – the whole family found the Banana Chocolate Chip Muffins to be simply delicious and my 5 year old felt particularly proud of the role he'd played in their creation.
The following morning over breakfast when we were sharing the last of the muffins he even remembered every ingredient included in the muffins – and how they were made – I felt incredibly proud."