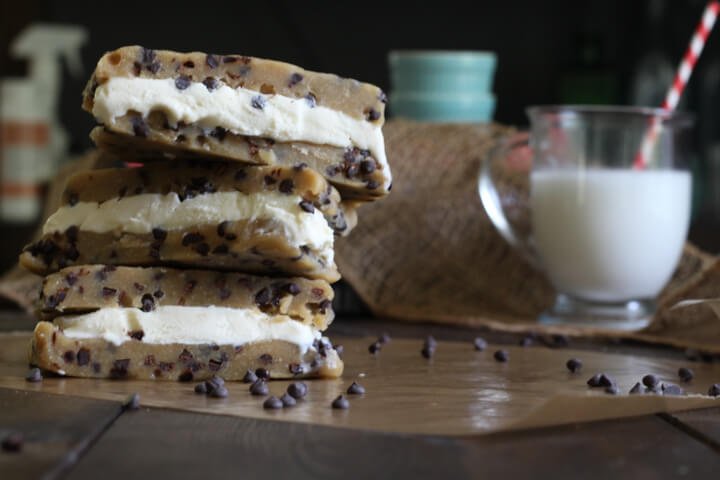 It's the best part of making cookies in general. It was the beloved event at all childhood sleepovers. It was forbidden by mom and dad, which somehow made it even more delightful. Eating cookie dough. Is there much better than eating cookies in their raw form? I think not. There is something so lovely about eating cookie dough that most of us are willing to risk the potential salmonella in order to enjoy the tiny treat. But we have great news. You can make your own eggless cookie dough to enjoy without inhibition (just kidding). This cookie dough is made with almond flour, maple syrup (or honey), vanilla, chocolate chips, and salt. It gets even better … what takes any dessert dish to a whole new level? That's right: ice cream.
By adding ice cream to this eggless cookie dough, you are able to make the best kind of sandwich. These grain free cookie dough ice cream sandwiches are the perfect summer treat that both kids and adults will devour. As for you, the chef, you can proudly serve these without worrying about disease or processed sugar. Now that's a fantastic deal for everyone!
"Admit it, cookie dough is usually better than the actual cookies." ~ Unknown
So, my husband might be an alien. The quote above is practically a law of the universe, like thermodynamics and general relativity, but when I told him I was making cookie dough ice cream bars he looked at me and said, "Why would you want to do THAT?"
See? Alien. I'm going to look in the barn for pieces of his crashed spaceship when he goes to sleep tonight.
Everyone knows that the best part of making cookies is sneaking a little of the dough before it gets popped into the oven. Inspired by that moment of joy from childhood, this egg-free recipe pairs browned butter cookie dough with the creamy goodness of vanilla ice cream. Enjoy!"