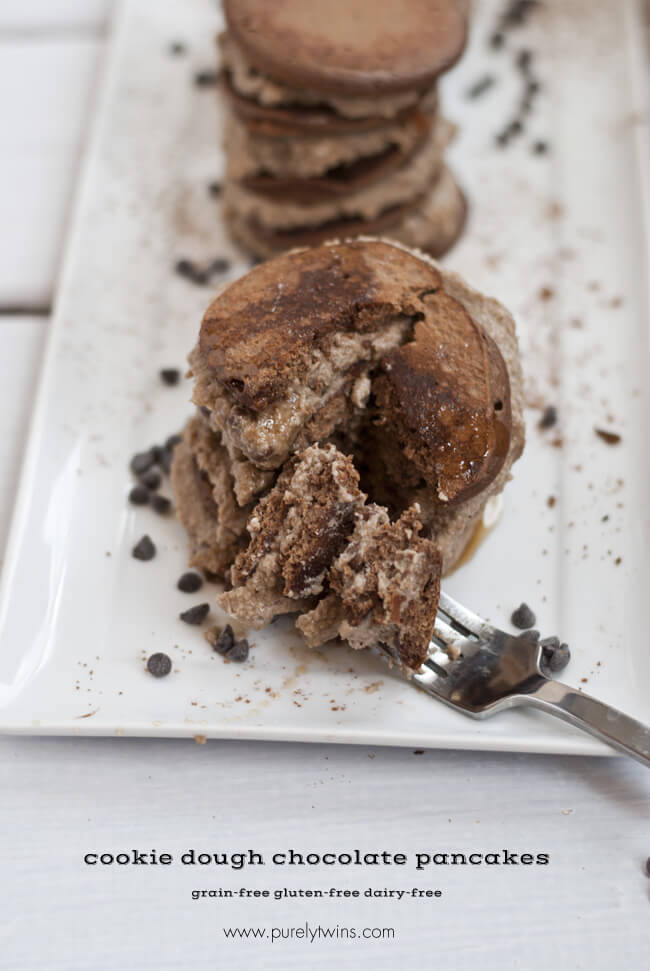 Made with rich ingredients like plantains, cocoa, and eggs, these chocolate pancakes are scrumptious enough on their own. But the addition of cashew cookie dough takes these pancakes to a whole new level.
"Remember when we were on a pancake kick? With making all those chocolate  pancakes?
Well, now we are taking our love of pancakes to a whole new level with these cookie dough ones.
Yes we said cookie dough pancakes!! Are you excited? We are dancing over here in excitement!
Cookie dough chocolate pancakes that are grain-free, gluten-free, dairy-free and soy-free.
We've always wanted to create something like this especially after our cookie dough cinnamon buns.
Growing up we were those kids that would secretly take bites out of the cookie dough in the fridge. Hoping our mom would not catch us.
Good news! Now we don't have to hide anymore.
Now we can enjoy both cookie dough and pancakes all we want 
These are mom approved!
What is it about pancakes smothered with cookie dough that is out-of-this-world perfection.
Now we can't have just plain pancakes anymore. Nope. Now we've been spoiled with cookie dough chocolate pancakes. How can we ever go back?!
Seriously if you were planning on making pancakes… make these!
Promise you will be pleased."