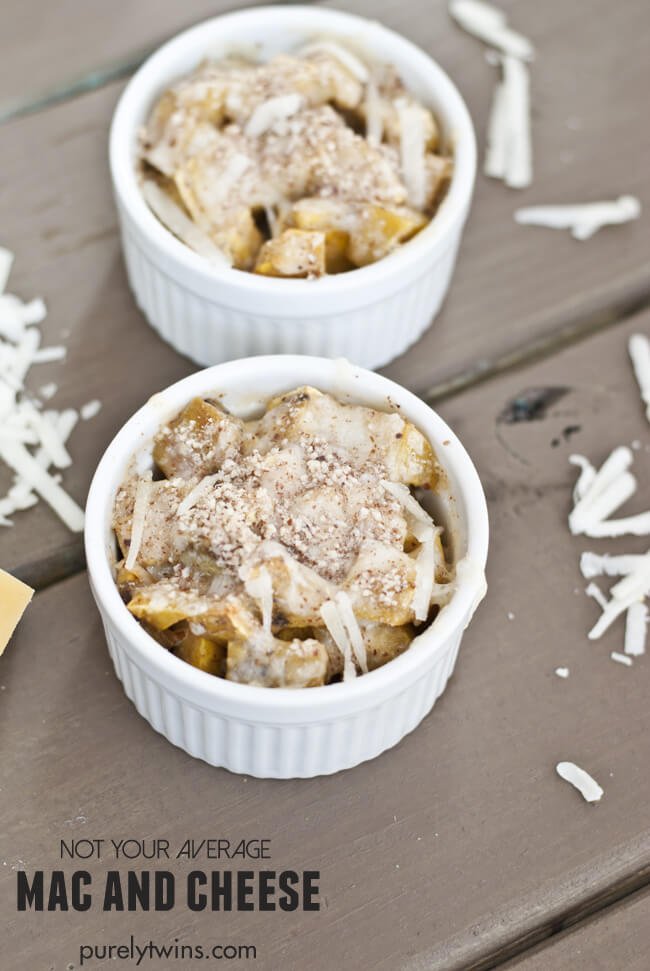 Mac and cheese is an ideal comfort food. What is it about melted cheese that's just so good? This gluten free and grain free mac and cheese is a wonderful alternative. Made with plantains instead of pasta, fresh cheese, coconut milk, and spices, this recipe is simple to make and will be just as comforting as its inspiration!
"Do we have the recipe for you today 
 After getting all full from our cookie dough cocoa pancakes… time to share a little savory dish. Promise we eat more than sweets around here.
We enjoyed the classic mac and cheese growing up. Somewhat of a childhood favorite as we loved other things, but liked a good bowl of mac and cheese.
Though the funny thing is as we got older we craved it less and less.
Not your average mac and cheese recipe as it's made from 3 real ingredients.
A bit healthier than regular mac and cheese from a box.
Although it is not 100% like mac and cheese from a box. This recipe has more of real food flavor and texture!
We got this idea for this recipe after falling in love with plantains and how they satisfy our carb cravings. Plantains provide a warm and comforting feeling, so we thought they would be a great replacement for pasta. And for those days when we get a little cheese craving, we knew a warm bowl of mac and cheese would be on the menu.
Again we normally don't eat a lot of dairy, and if we do it's usually goat or sheep based. We do notice our bodies don't handle dairy (even grass-fed) especially in large amounts. When we do splurge on some dairy it is a treat for us.
We were so stoked that plantains worked wonderfully in our 'healthier' version of mac and cheese 
Plus we made it served just 2. Since there is two of us.
We did use dairy in this recipe. If you want to keep this vegan or dairy-free please use dairy-free cheeses of your liking. For us personally, we would rather avoid processed soy or rice based cheese over having just a little bit of real cheese like goat cheese. Just our opinion. Like we always promote here – do what is best for you and your body! As everyone is different."