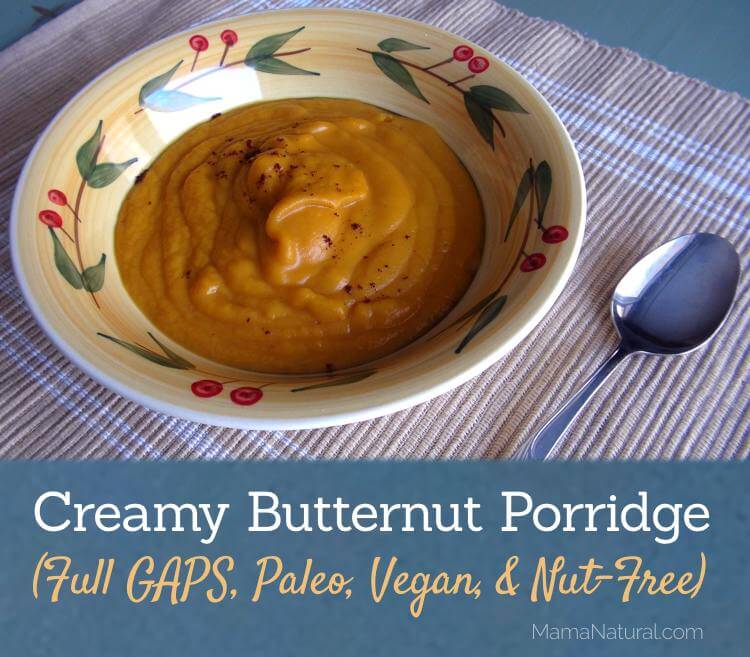 Creamy butternut porridge is a delicious breakfast dish that is kid-approved! This recipe is grain free, nut free, GAPS, and vegan friendly! Made with healthy ingredients like butternut squash, dates, coconut oil, maple syrup, and spices, it is a dish you can feel good about eating and serving to your loved ones!
"Many mornings, my two little ones wake up bright and early and, before I can even make heads or tails, they have already declared its breakfast time. No rest for the weary!
Staying away from the typical convenient options, I look for dishes that are fast, filling, and nourishing. Which led me to develop this classic cereal dish… turned upside down.
A grain-free porridge?
Yup. This porridge is great for folks with allergies, especially as it contains gut repairing grass-fed gelatin and ultra-healing coconut oil. If you want to make it vegan, just replace the gelatin with chia seeds.
For even faster prep, peel and chop the butternut squash the night before and store in the fridge. As butternut squash is naturally sweet, I did not add much maple syrup, but feel free to add more to taste. Serve with a side of pastured pork bacon, homemade sausage, or sautéed greens, and you will be set for the rest of the morning, promise!"