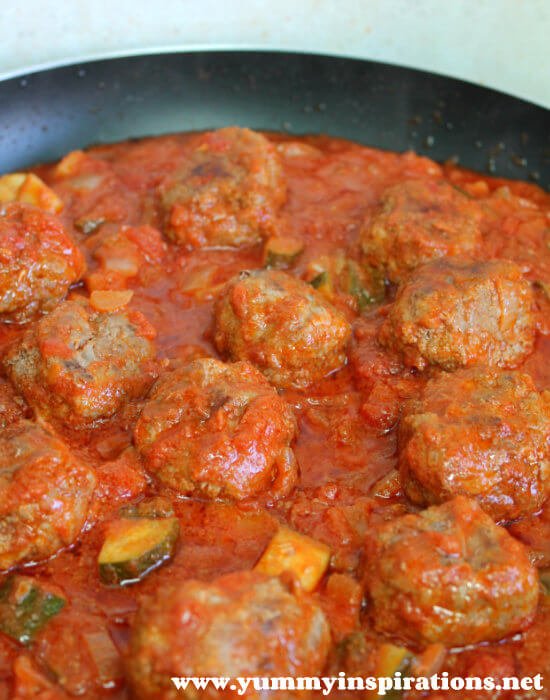 Hearty meatballs make for a delicious meal (especially on these cold nights we've been having). These delicious grain free meatballs are made with almond flour and an assortment of spices and are fried in coconut oil. The meatballs are cooked in a savory tomato sauce made with fresh zucchini. Therefore, not only are the meatballs themselves flavorful, but the sauce is irresistible as well! Enjoy the grain free meatballs and sauce on its own, or pour them over sweet potato pasta or cabbage noodles!
"My Darling Husband and I are approaching our 8th Wedding Anniversary in a couple of weeks and sometimes our minds are totally in sync… like over the weekend when I had 500g of mince sitting in the fridge. I was debating what to make with them and was thinking about making Grain Free Meatballs. So, I asked my Husband what he wanted (not mentioning meatballs) and out of the blue he said "you haven't made your meatballs in AGES – please make those"!
So, I made them and actually measured out the ingredients so that I could share the recipe with you because they're always a hit with my family and are great when you get in a "spag bol" rut like us!
About the sauce – my Husband is usually not a fan of tomato based sauces, he usually finds them either too tomatoey or too watery, but he LOVES this sauce because of the combination of chopped tomatoes and chicken stock.
I regularly make homemade chicken stock, so have it to hand. Ideally the stock would be fresh and homemade, but if you don't have any to hand you can use a cup of water instead – the chicken stock brings a delicious richness to the sauce (plus heaps of nutritious goodness)."