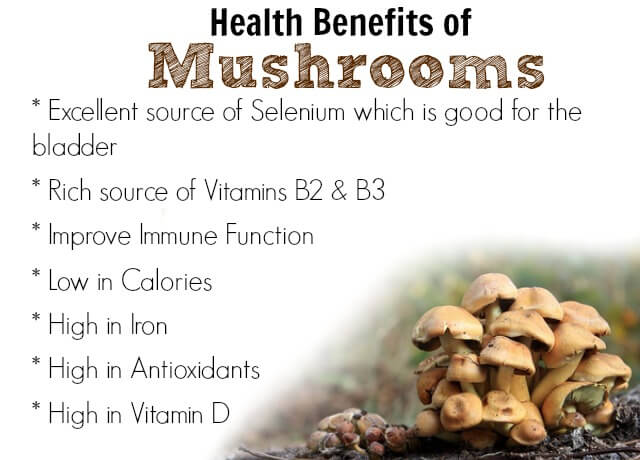 Mushrooms are a great accompaniment to many protein dishes like steak and chicken. They also stand alone well as a side dish or on a salad. Not only do they taste good, but there are a variety of health benefits of mushrooms that make them even more desirable to eat. This post from Colleen explores the various types of mushrooms and which mushrooms provide the most nutrients.
"Mushrooms. You either love them or you hate them but are they healthy?
The definitive answer, I've found, is YES, mushrooms are very healthy. The health benefits of mushrooms are numerous.
Health Benefits of Mushrooms
As you can see from the graphic above, there are many health benefits of mushrooms. However, not all mushrooms are created equal. So, if you are looking for a very specific vitamin boost from mushrooms, make sure you are eating the right kind.
You see, there are over 140,000 species of mushrooms and scientists are only intimately familiar with about 10% of those. And of that 10%, the edible mushrooms vary in their benefits. For instance, if you are looking for a boost in iron, make sure you are eating oyster mushrooms.
When heading out to buy mushrooms, you want to be sure that you are buying organic. Mushrooms have a unique ability to absorb and concentrate the properties of whatever they are growing in – be that good or bad. That said, the health benefits of mushrooms will vary depending on what medium they are grown in and where they are grown. For instance, most commercially produced mushrooms are grown in the dark. This can prevent them from developing high stores of vitamin D. However, some producers grow them in ultraviolet light to increase their Vitamin D storage. Research is key when deciding which mushrooms to buy to get the most health benefits."