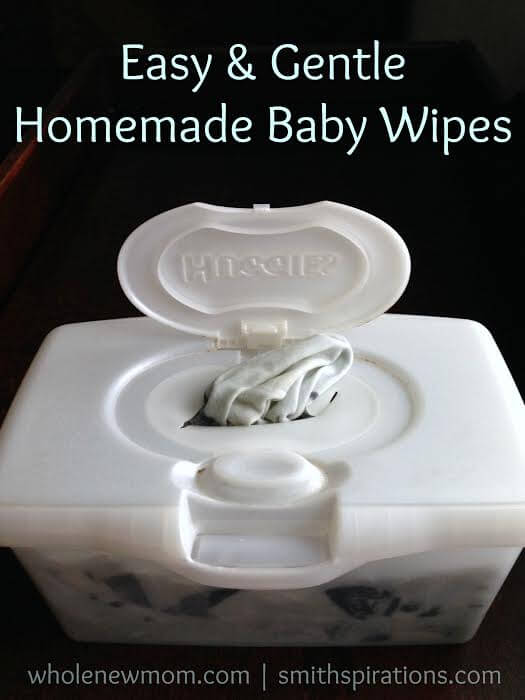 Baby wipes are an essential when it comes to our darling little ones, especially during the dreaded blow out times 😉  But commercial baby wipes are full of preservatives and artificial scents. Who wants that on their sweet baby's bottom? These homemade baby wipes are affordable, easy to assemble, clean, and still carry with them a moisturizing quality thanks to olive oil. Check out the full post and see how amazing these are!
"There's something really cute about a baby's bum, and I'm certain that I'm not the only one who thinks so!
Those plump little bottoms show up all over advertisements, greeting cards, and online memes.
But cute as those chubby cheekers are, they are also very sensitive and deserve gentle care when it comes to diapering. 
These homemade baby wipes are a simple way to give a tiny tushy the care it deserves.
Store-bought diaper wipes are typically made with:
– questionable preservatives
– scents, and
– other ingredients, sometimes even causing horrible reactions.
Though they seem to be the most convenient option, a quick glance at the ingredients list might make you rethink that initial convenience.
Homemade wipes, on the other hand, are just as effective while being a more frugal, gentle, and natural option.
They're so easy, too!
It involves minor work on your part, but once you have the ingredients in your home (and you just might have them all already), you don't have to run to the store to buy more packaged wipes.
I've been making my own baby wipes for three years and have used various solutions to wet them. I've finally settled on this one since it is incredible easy, effective, and gentle.
I love knowing exactly what is being used to clean my baby's bottom!"