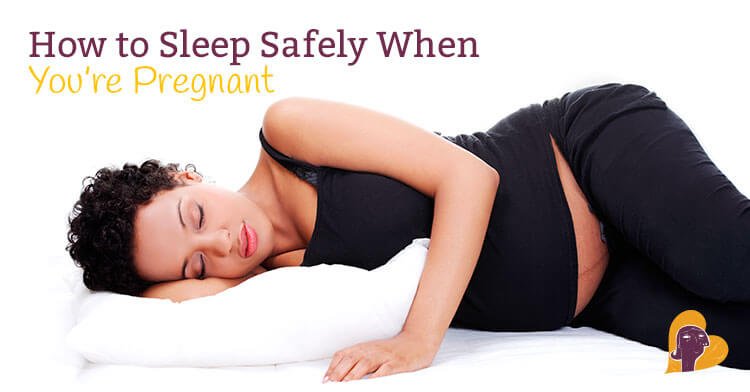 For some mamas, sleep and pregnancy are opposing terms. Forget morning sickness or heartburn, sleep is their pregnancy kryptonite and they simultaneously dread and long for bed. As we get bigger during pregnancy, it becomes harder and harder to find a comfortable sleep position that is also safe for mama and baby. My husband remembers me grunting in my sleep as I rolled my big belly from one side to the other toward the end of my pregnancy 🙂 But there IS a way for pregnant women to get a good night's rest while caring for their little one inside. This article outlines just how to sleep safely during pregnancy and how to rid yourself of common sleep discomfort and interruptions.
"From the moment we wake up, to the moment we put our head on our pillows at night, we are thinking about taking good care of the life within. Even when we sleep, we can't truly "rest" until we know how to sleep safely when pregnant.
Clearly, you can rule out laying on your stomach after the first couple months. And past four months, you'll hear warnings about sleeping on your back.
So, you're left to side-sleeping. But is the left side best, or is it the right side? And what can you use to help you get comfortable?
To set your mind at ease, here are some facts to help you sleep safely when pregnant – plus tips and tools for a good night's sleep during your nine-month adventure.
The best position to sleep in when pregnant
Traditionally, midwives and doctors recommended sleeping on your left side throughout pregnancy, and for good reason. A person's liver, one of the most important organs in the body, is located in the abdomen on the right side. We want to keep pressure off the liver so it can function optimally, especially as we get bigger.
Sleeping on the left side also puts less pressure on our vena cava, the large vein that starts near our belly button and is responsible for bringing the blood, oxygen, and nutrients to our baby.
For mama, sleeping on the left side can allow for better circulation to the heart, uterus, and kidneys, which can reduce swelling, particularly in our ankles. If you haven't experienced pregnancy cankles yet, just wait. They're extremely common toward the end of pregnancy.
But let's be honest here…
When we're well into our second trimester and carrying at least 15 pounds of extra weight, sleeping on one hip all night can be a little… well… uncomfortable. Most doctors would agree it's fine to sleep on your right side as well, just try to favor the left when you can.
If side-sleeping isn't your natural position, make it a goal to get your body used to it sleeping on your side while you're in the early stages."